People on forums and discussion boards talk about Tumi as 'the holy grail' of suitcases. They make higher-end suitcases that are especially popular among frequent travelers and flight crews. But Is Tumi really that good?
Well, in this Tumi luggage review, we'll find out. We'll get into every little detail: how they're made, what's their reliability like, are their features any good, what's the warranty like, and are priced accordingly. All of that to find out if Tumi is worth it or not.

On CleverJourney's Best Luggage Brands, Tumi got 87 out of 100 points. This places them at 4th place. It's one of the highest results we've given to a brand. They're only slightly behind Briggs & Riley, Chester, and Travelpro.
You can see how we calculated the 87 points down below, but we'll go into more detail on every section further down into the review.
The Good
Durable. Tumi's suitcases are built from the best materials on the market, like aluminum, ballistic nylon, and Tegris, which makes them incredibly durable. You shouldn't experience the usual 'cheap-luggage' issues, like broken wheels, handles, and zippers.
Packed with useful features. Their bags are usually built with the business traveler in mind and come with suiters, organizers, laptop pockets, and other useful features (like the Tumi Tracer, which helps with finding lost luggage).
Good looking and well-reviewed. Most Tumi suitcases are reviewed at 4-4.5 stars, and a large portion of their customers are repeat buyers who have stayed loyal for decades. Tumi's designs are also very stylish and elegant compared to other luxury brands.
The Bad
Overpriced. We believe that Tumi doesn't offer as much value as, let's say, Travelpro, Chester, Rimowa, or Briggs & Riley. We think that $100-$300 of the total price is made just by slapping a Tumi logo on the case.
No lifetime warranty. Tumi offered a lifetime warranty up to 2004, but a change of owners reduced the term to just five years. For the first five years, their warranty is really decent (In fact, it's one of the best warranties we've seen). However, after that, you'll have to pay for the repairs out of your own pocket.
The Verdict
If your primary concern isn't price, Tumi will be an excellent choice. Their suitcases are built to last, and for the first five years, you'll be covered by one of the best warranties on the market. Plus, if you're a business traveler, you'll find their bags especially useful. You'll find suit hangers, luggage locators, smart packing features, USB ports, and many other useful features. No other brand has gotten more points in features & innovations on our site.
That being said, we think that their similarly-priced competitors Briggs & Riley offer more value. They're both more durable, have better warranty terms, but are only slightly behind in features.
Top-Rated Tumi Suitcases
Full Review
Key Facts About Tumi
Tumi Holdings Inc. was founded in 1975 in the United States. Since then, it's been bought several times, with the latest transfer being back in 2016 when Samsonite bought Tumi for $1.8 Billion (If you didn't know, Samsonite also owns many other luggage brands, like American Tourister, Hartmann, eBags, High Sierra, and Lipault).
Right now, the company makes high-quality travel gear for business travelers, and its main competitors are Rimowa, Briggs & Riley, and Bric's. Tumi is arguably the most expensive of all the brands mentioned.
Read Next: Samsonite vs Tumi: Which Brand Is a Better Choice?
Reviews (26/30)
Tumi is highly appraised by its long-term customers. Their suitcases receive an average rating of 4 – 4.5, which is reasonably high. Their customer reviews aren't as good as Travelpro's, Chester's, or Briggs & Riley's, but they're reasonably high nevertheless.
They have a cult-like following of people that have stayed loyal for decades. And the main reason why they've been so loyal is because of their durability. BUT, we noticed a trend in the most recent reviews – some people said that they're not as good as they were before, and here's why.
In 2004 Tumi was sold to Doughty Hanson & Co for $256M. The new strategy was to make everything cheaper at the cost of the warranty. Before that, Tumi offered a lifetime warranty, but after the purchase, they slashed the term to five years. This strategy was successful, as the sales boomed, but the quality was slightly decreased alongside the warranty.
Now that Samsonite owns them, though, we've seen improvements in the customer reviews and warranty. That is, in the last five years, the reviews have become better, so it looks like Samsonite is finally fixing the issues.
Quality (19/20)
As you'd expect from suitcases priced so highly, they're made quite well. Their strategy has been to prioritize quality over price, design, features, and anything else right from the get-go.
The Tumi Difference
Essentially "The Tumi difference" is their company slogan. What this means is that no other luggage brand goes over every detail to perfection as much as they do (thus, the difference).
Before their suitcases leave the factory, they're put through 30 different quality tests, like oil resistance, stiffness, product safety, stability, drop tests, handle jerks, e.t.c. It's similar to what Rimowa and Travelpro do – their products are put through rigorous durability tests before leaving the factory.
How Durable Tumi Luggage Really is?
Based on their customer reviews, most people actually say that their luggage is incredibly well-built. We found a ton of reviews where people have used their bags and suitcases for years, even decades. If anything got broken, Tumi quickly fixed the issue.
That said, we still found quite a few unsatisfied customers, so here we'll break down the most common issues:
Some people find their handles quite wobbly and too fragile for the premium price tag.
Some customers experienced issues with the TSA locks, where they malfunctioned and had to be sent to the repairs.
People aren't that happy that the warranty is only valid for five years. Once that time passes, the repairs get pretty expensive.
People say that in comparison to Rimowa or Briggs & Riley, Tumi seems to be a bit less durable.
But these were just a few rotten apples in an overall satisfied customer base. Tumi is spectacularly well built, regardless of the price, so we've rated the quality at 19 out of 20.
Read Next: Tumi vs Away Luggage: Which One Should You Get?
Features (15/15)
Given the high price tag, you'd expect Tumi's suitcases to be innovative and packed with high-tech features. And they really are, compared to other brands, like Rimowa or Samsonite.
Down below, we'll tell a little more about the most important ones.
Patented FXT Ballistic Nylon for Fabric Bags
Regular ballistic nylon is the most rigid fabric for luggage. It was developed in WW2 when the army tried to make a bullet-proof fabric. Although the result was unsuccessful, the newfound material was more abrasion-proof and tear-resistant than anything else due to the thick fabric fibers.
Tumi's patented FXT ballistic nylon is a slight modification of the regular ballistic nylon. Essentially, it's coated with a protective layer and weaved in a different pattern, which supposedly makes it even more durable. You'll find this material used in most of their fabric suitcases.
Patented Tegris Material for Hardside Luggage
For hardside luggage, Tumi is using another innovative material, called Tegris (for instance, the Tegra Lite Continental 22-inch carry-on)
Although Tumi didn't develop Tegris, they're the first ones who started using it in luggage. In fact, they've purchased a license for being the only brand allowed to use it in luggage manufacturing.
The Tegris material is an improved form of polypropylene with increased stiffness, impact resistance, and reduced weight. It's also used by the U.S. military in protective armor and by other companies for a wide variety of applications: helmets, NASCAR vehicles, football gear, and outdoor furniture.
In addition to Tegris being more durable, it's also beautiful. Due to its aesthetic weave, it resembles carbon-fiber composites.
The Tumi Tracer Helps With Lost Luggage
Tumi's suitcases come with a tiny built-in plate that contains a 20-digit number and Tumi's customer service number. Essentially, with this system, you won't have to use luggage tags anymore.
Every 20-digit number is unique and contains your information in Tumi's database. If the suitcase is lost and someone sees the integrated plate, they'll call Tumi's customer service, and Tumi will arrange the retrieval of your bag without giving out any sensitive data.
A simple but clever way to replace luggage tags.
Zippers Protected With the Omega Closure System
A broken zipper is the most common defect in luggage, right after broken spinner wheels. So it's nice to hear that Tumi has made improvements to zippers called the 'Omega Closure System.'It makes the zippers better in two ways. Firstly, they're more durable. So if you overpack the suitcase, the zippers are less likely to break.
Secondly, the zipper heads are built in a way to break off quickly in case they get stuck somewhere. Often, they'll get stuck on the conveyor belts, luggage carts, or while loading in the plane. This system ensures that only the zipper head breaks off instead of ruining the whole zipper. Later, the zipper head can easily be swapped with a new one.
TSA Locks and Expandable Width
Nowadays, TSA locks and expandable width zippers should come with all suitcases, but sadly, that's still not the case. It's nice to see that Tumi has included both features on almost all of their suitcases.
If you don't know what these features do, the TSA lock ensures that only TSA agents can unlock your suitcase and the expandable zipper expands in width by 1-3 inches so that you always have enough room for return trips and last-minute purchases.
Heavy-Duty Spinner Wheels
Quite often, spinner wheels can break off the suitcase because they're "sticking out" of the bag's rectangular shape. If they're made from fragile plastics and are improperly guarded, it's just a matter of time.
While reading the reviews, we saw almost no issues with spinner wheels on any of their suitcases. Often, the largest portion of the reviews consist of broken spinner wheels, but it's not the case with Tumi, which makes us believe they're very well made. Also, it's worth noting that for the first five years, the spinner wheels are covered by the warranty (normal wear and tear), which is nice.
Design (13/15)
Tumi keeps a non-flashy style across all of its products. You can definitely tell that their bags are high-end because of all the little details and premium materials.
Put next to other premium luggage brands, like Rimowa or Briggs & Riley. Their looks are way more sophisticated and thought-out. We're especially excited about the Tumi 19-degree Aluminum collection, which features the classic Rimowa aluminum style, wrapped up in a new, classier way.
To be honest, we didn't find a bag from Tumi that we didn't like, which is why we've rated their design & style at 14 out of 15 points. We didn't give them 15 points because some models lack color selection.
Warranty (9/10)
Tumi is owned by Samsonite, and everyone knows Samsonite by how good their warranty is. So, naturally, you'd expect Tumi to offer something even better.
And when both warranties are put side by side, Tumi's is definitely better.
First-Year Warranty Terms
Tumi will cover any airline damages, transit damages, normal wear, and tear and cover all the shipping costs to and from the repair centers. If the bag is damaged beyond repair, they'll give a brand-new replacement.
The warranty will not be valid if the damages are cosmetic or arise from abuse or accidental damages.
Year Two to Five Warranty Terms
Tumi will cover damages caused by normal wear and tear and manufacturing defects. You'll have to cover the shipping costs to the repair center or take your bag to the nearest dealer for free. If the damages are covered by the warranty, Tumi will cover the return shipping costs. What changes is that Tumi doesn't cover airline and transit damages in this period.
After the Fifth Year
We researched a lot about how good their repair centers and customer support really are. On their website, they've said that even if their products aren't covered by the warranty, they'll do the repairs at reasonable prices.
This was backed up by many of their long-term customers, who said that their support and warranty centers have always been fast to respond, polite, and did the repairs well and at somewhat reasonable prices. So even if you run into any issues after the warranty has expired, they'll do their best to help you.
Price (5/10)
We believe that Tumi is somewhat overvalued for what they offer. When compared to Rimowa or Briggs & Riley, their prices are identical or even higher. So naturally, you'd expect Tumi to be better built, offer more features, better warranty terms, or compensate in other ways.
But we don't think that's the case here. Rimowa and Briggs & Riley are both more durable and offer better warranty terms while costing the same or less.
We think that Tumi is closer to Travelpro. Both brands are very similar in features, quality, warranty, and everything else, but Travelpro costs about half the price of Tumi, which is the main reason why we think Tumi is overpriced.
For Tumi, you're paying more for the brand than anything else. There's nothing wrong with that, but if you're looking to get the best value out of your purchase, we'd suggest choosing Travelpro, Briggs & Riley, or Rimowa.
How Does Tumi Compare to Other Luggage Brands?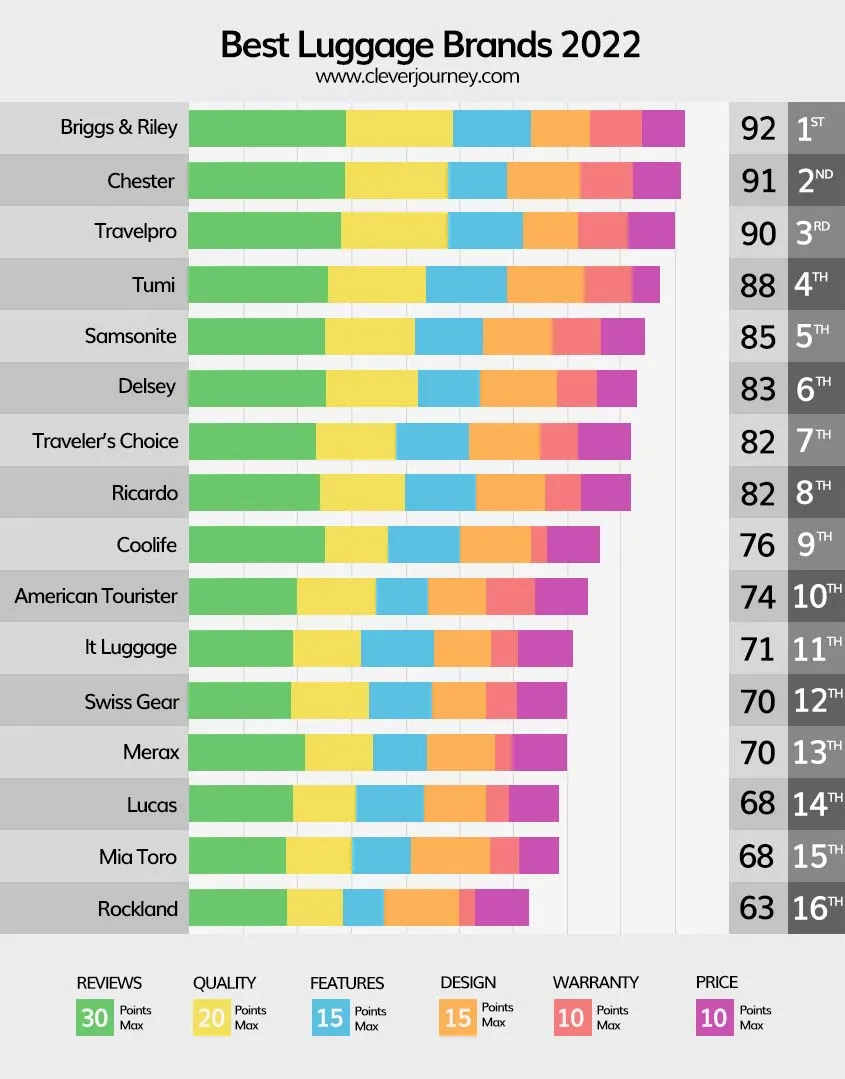 Tumi is definitely up there with the best brands on the market. Tumi's suitcases have the most innovative features we've encountered out of all the brands we reviewed. But, there are certain aspects where Tumi could do a much better job. So, let's compare our top 5 brands (Briggs & Riley, Chester, Travelpro, Tumi, Samsonite) with Tumi to find out how the brand compares to them.
Tumi's suitcases are really durable and well-designed. While its luggage might not be as durable as what Chester and Briggs & Riley are offering, they still do a great job at making luggage that will last for many years. Also, their designs are on-par with Samsonite and Chester, but they are way better than Travelpro and Briggs & Riley. Since the brand is part of Samsonite, it comes with pretty good warranty terms, but they aren't as good as those of Briggs & Riley.
The only problem with this brand is that it sells overpriced suitcases. Why would someone pay 1000$ for a suitcase, when you could get a similar one from Travelpro or Briggs & Riley for 400-600$, especially when the warranty lasts only five years?
Overall, Tumi is a great brand, and it has some amazing suitcases. But, just because they put the Tumi logo on the luggage, it doesn't mean that it should cost 200-400$ more. If they decided to lower their prices, they might have even ranked higher than Briggs & Riley because of their features and designs, but that's not the case. Still, with Tumi, you're guaranteed to get a solid luxury suitcase.
Individual Tumi Suitcase Reviews
Best Overall: Tumi 19 Degree Carry-On
If you're looking for the best suitcase that Tumi has to offer, it's definitely the 19-degree aluminum carry-on. Essentially, it's very similar to Rimowa suitcases, with its classic parallel aluminum grooves, but it's designed in a slightly different, cooler way. We really love this design, but it only comes in two colors – black and silver.
The frame is made from airplane-grade aluminum, which means that you won't get any cracks in the case. In fact, up to this date, aluminum is still the most durable material for hardside suitcases, but it's also the most expensive one. From the outside, it's reinforced with protective corners, and the four dual spinner wheels are made exceptionally durable. The handles (both the top and retractable ones) are incredibly well-made.
As you'd expect from its premium price tag, it's packed with many useful features. Instead of one lock, it has two TSA-approved locks. Inside, you'll find two mesh pockets, a zippered divider that splits the inner compartment into two parts, a hanger system, and tie-down straps. It's not expandable, but to be honest, we haven't ever seen an expandable aluminum case because they don't come with zippers.
It looks like the 19-degree collection is made as an answer to Rimowa's classic aluminum collection. Both are very similar in looks, performance, price, and reviews. The critical difference between both is the looks. Other than that, they're nearly identical, which is why both are great choices. That being said, you should keep in mind that this one costs almost $1000, and you could probably get similar quality from something like the Briggs & Riley Sympatico carry-on at roughly half the price.
Full Review: TUMI 19 Degree 22-Inch Carry-On Review
Best Softside Carry-On: Tumi Alpha 3 International Carry-On
If you're looking for an indestructible softside suitcase, the Alpha 3 is one of the best candidates. The design is pretty stylish, and the Anthracite color fits this suitcase very well.
Other good options would be the Travelpro Platinum Elite or the Briggs & Riley Baseline, and out of all three, Tumi is the most expensive one. This one is unique because the outer frame is supported with a hard exterior frame, and the corners are protected with Durafold caps, which make the suitcase incredibly rigid. It's made from FXT Ballistic Nylon, which is supposedly the most durable material out of all three models.
The exterior is fitted with double spinner wheels, two front pockets, one pocket for a laptop or tablet, and a USB charger. On the inside, the main compartment is quite roomy (essential for those who use packing cubes) and is protected with a TSA-approved lock. Inside, you'll find a suiter, several tie-down straps, and several pockets for all the smaller items. Essentially, it should be perfect for business travelers. The bag will easily store enough for a week's worth of clothing.
Although the Alpha 3 carry-on is quite expensive, it's incredibly rigid and has received many fantastic reviews. That said, in many ways, it's very similar to the Briggs & Riley Baseline carry-on, which is slightly cheaper, and instead of a five-year warranty, offers a lifetime warranty. The Alpha 3 is a solid choice, but we believe that the Briggs & Riley Baseline carry-on offers slightly more value.
Full review: Tumi Alpha 3 22-Inch Carry-On Review
Best Hardside Carry-On: Tumi Latitude 22-Inch
The Tumi Latitude carry-on is one of the best hardside carry-ons on the market. The design alone is stunning, and as one customer mentioned, the ridges are actually 3D; they aren't just a print. It also comes in three different colors, including black and silver (with some lovely bronze accents on the handle).
The suitcase is made from SRPP (Self Reinforced PolyPropylene), which is supposedly more durable than regular polycarbonate. The corners of the bag are also reinforced, which is great as it gives it some abrasion resistance. As with most hardside luggage, this one has a TSA lock, and it also comes with a very sturdy retractable handle. The wheels on the bag are four pairs of double spinners, which is incredible for maneuverability.
The interior is also great. It comes with a main compartment where you can fit all your clothes and a second one for more clothing or shoes. There are also several zippered pockets, including one large mesh pocket for any accessories or toiletries. This is all very similar to what Briggs & Riley has in its suitcases. Many customers have managed to fit four packing cubes inside, which can be around ten days of clothing. That's pretty impressive for a carry-on.
Overall, the Latitude is the best affordable carry-on by Tumi. We'd suggest you buy it on sale, as it tends to be a much greater value for your money then.
Full Review: TUMI Latitude 22-Inch Carry-On Review
Runner-Up Softside Carry-On: Tumi Merge Continental Carry-On
The Merge Continental carry-on is easily one of the best softside carry-ons out there. It's also the best one that Tumi has to offer at an affordable price (compared to everything else they sell). Its design looks simplistic, but we actually like it a lot because it looks a lot like a traveler backpack from the front and the black color also suits it very well.
The suitcase is made from ballistic nylon, which is the most durable material on the market when it comes to fabric suitcases. The exterior features two handles on the front, one handle on the top, and a retractable handle. So, you'll be able to carry or move this bag no matter where you are. This is helped even more by the eight spinner wheels, which add a lot of maneuverability to the suitcase.
The interior is pretty neat, albeit being a bit more traditional than what Tumi is offering. You can fit your documents and your laptop in the two front pockets, while you can fit all your clothing in the suitcase's main compartment. The zippered mesh pocket on one part of the compartment can hold all your other essentials, like toiletries and shoes.
Overall, if you want to buy a Tumi fabric bag but not spend nearly 1000$, then the Merge Continental carry-on is your best bet.
Best-Looking Hardside Carry-On: Tumi Tegra-Lite Max Carry-On
The Tegra-Lite Max carry-on is another solid choice from Tumi. Its design is absolutely stunning, making it the best-looking carry-on that Tumi has to offer. Plus, it comes in two colors – black and silver.
Its main difference from the "19 Degree carry-on" is that it's made from Tegris – a unique hardside material patented by Tumi. Essentially, it's an improved form of polypropylene with increased stiffness, impact resistance, and reduced weight. And yes, it looks like carbon fiber, which is pretty cool. Compared to the 19-degree aluminum carry-on, it's also expandable in width, more flexible, more affordable, and has an outer front pocket, which is perfect for storing documents, tablets, and other items that need to be accessed easily.
The Tegra-Like Max is also fitted with a suiter, exterior pockets for organization, and compression straps, which should make packing quicker. All in all, it's a very solid choice, and we understand why some would prefer it over the slightly more expensive 19 Degree aluminum carry-on.
Best-Looking Softside Carry-On: Tumi Voyageur Leger Carry-On
Despite being fairly new, we decided to include the Tumi Voyageur Leger International carry-on here. The design of this bag is incredible, in our opinion. The contrast between the black color of the entire suitcase and the golden zippers screams luxury.
However, apart from its design, this bag doesn't have a lot going for it, as it's pretty similar to the Merge Continental. sOne of the differences is that it's made from polyester. The wheels on this one are double spinners, so you can move it around pretty effortlessly.
The interior is pretty interesting. The front pocket opens up to the main compartment, meaning that you get a bit of extra space for your clothes to fit. The bag also comes with several pockets, where you could fit in your underwear or toiletries.
Overall, the Voyageur Leger International is a stunning suitcase by Tumi, and it costs around the same as its affordable suitcases.
Best Travel Tote: Tumi Alpha 3 Medium Travel Tote
The Alpha 3 travel tote by Tumi is by far the best tote on the market. Tumi did an amazing job with this one, and everyone praises it. This tote's design is very simple, and it looks like something that came out of the late 90s. But, it does its job perfectly, and the black color adds to its professional look.
The tote is made from FXT ballistic nylon, so it'll need a hefty beating for it to get damaged. There isn't much to be said about the exterior since there's only one handle and a strap. Customers have said that it can fit a Macbook Air on the interior, which is surprising. You'll most likely use this one, however, to keep some essential belongings on you at all times, like any documents you might need.
Overall, the Alpha 3 travel tote is an amazing addition to the Tumi Alpha 3 collection. It's easily one of the best travel totes out there.
Other Luggage Brand Reviews