Traveling has become more popular and easier to do these days than it was several centuries ago. From booking tickets to getting on planes to the kind of luggage you're toting around, much has changed since the early days. Travel accessories have changed too, with companies introducing various kinds of items that help make your trips a lot easier.
One of these items is luggage protection covers. You might have seen it on other people's luggage – a piece of sturdy plastic or stretchable fabric enclosing a suitcase. They're usually eye-catching and come in various colors. But the question is: are luggage covers allowed on airplanes?
This article will explore why you might want to get a suitcase cover, whether it is allowed, and what are some of the benefits of owning and using one.
Can a Suitcase Burst Open?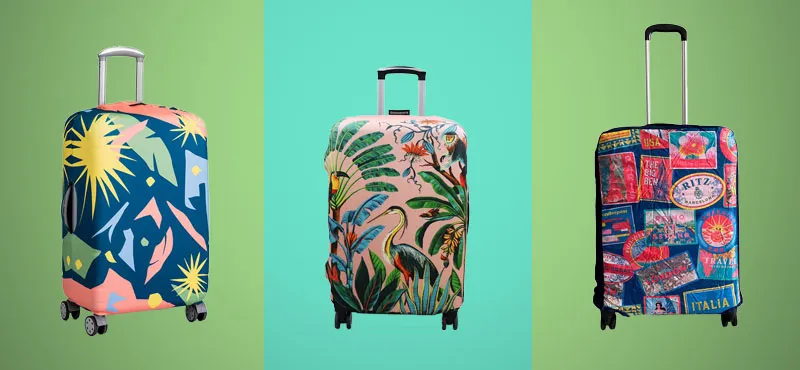 One of the biggest nightmares any traveler can have is to find their suitcase open and its contents scattered all over the floor.
There's a huge chance that your bag can get damaged if it gets caught in the belt loader. Straps and zippers can come loose, spilling all the contents of your luggage out onto the floor. There's also a possibility that a bag's handles can break off if a bag is extremely heavy.
While your trips are enjoyable and can go pretty much smoothly, there's a lot that goes on behind the scenes that could contribute to your suitcase bursting open. After all, there's a reason why checked-in luggage is called a "throwing bag". When the airport crew is loading the bags onto the airplane or unloading them and transporting them to the luggage carousel in the airport, these items get tossed around a lot and sometimes pretty roughly too.
Note: If your luggage breaks before departure or while being unloaded, the airport crew will attempt to seal your bag so that it can last for the remainder of the journey. If the bag is damaged beyond repair, its contents will be placed in a container and given to you as you land. In some cases, the airlines will issue you a similar bag or give you an amount equivalent to the cost of your bag, but you will have to file a claim for that before leaving the airport.
Are Luggage Protection Covers Allowed by the TSA?
Luggage protection covers are allowed by TSA as long as they can be opened by the officers if ever they need to open your bag for further inspection. If they aren't easy to open, there's a chance that they might be cut instead.
Can the TSA (or Other Airport Security Agencies) Tear off the Luggage Covers From Your Checked Luggage?
In general, TSA is careful when handling your items if ever they have to further examine your bag for security purposes. They will unlock your luggage, go through your items, and then attempt to repack the items just the way they were before getting screened.
Nevertheless, if your bag is sealed by a lock that is not TSA-approved or wrapped with a luggage cover that is difficult or nearly impossible to remove, there's a chance that TSA officers will have to cut through both the lock and the luggage cover to inspect your belongings. TSA will not be liable for damages caused to locked bags that must be opened for a physical inspection.
Is Plastic-Wrapping Your Luggage Allowed?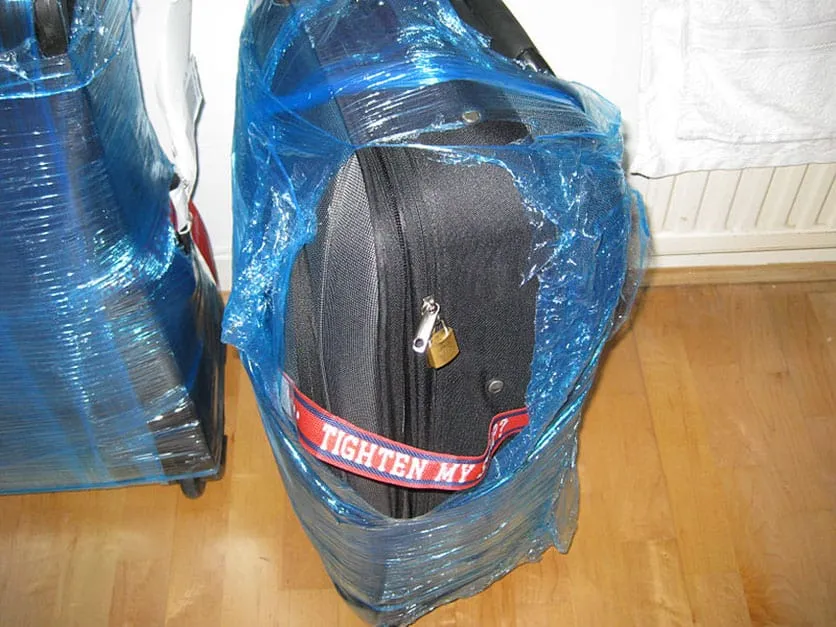 Some people who go on trips decide they want an extra layer of protection and do so by wrapping plastic all-around their luggage. This is to prevent it from getting scratched or bursting open especially if their bags are overstuffed or broken before going on a trip. While plastic-wrapping your suitcase is allowed, if ever TSA officers need to search your case, they will cut the plastic off, but won't replace it with anything after the search.
Should You Use Luggage Covers? Are They Worth It?
Are you still sitting on the fence where luggage covers are concerned? Not sure if they are entirely worth it? Check out the benefits of getting one:
When you're standing by the luggage carousel in an airport, you'll notice that most luggage have one thing in common: they look pretty worn-out and dirty. That's because luggage is often exposed to travel elements that contribute to its wear and tear. Sometimes you travel from one place to another where the conditions are not so great. Sometimes, your suitcases can suffer a great deal from being tossed about or even being mishandled by bag handlers.
Suitcase covers, on the other hand, will help protect your luggage from becoming battered too soon. If you have a fabric suitcase, it will also protect it from becoming too soaked if you or someone accidentally spills something there. If you have aluminum luggage, a luggage cover will help prevent dents and scratches.
Luggage Covers Provide Additional Protection
If you aren't that confident about how secure your luggage zippers are, a luggage cover can help calm your fears about your suitcase suddenly bursting open. Luggage covers also protect your things from getting stolen, especially if you forgot to lock your suitcase.
Luggage covers take time and effort to remove. Thus, in some instances, it can also protect you from some people who use unsuspecting passengers' luggage to transport narcotics and other illegal substances. A scenario such as this places the passenger at risk if the items are found in their bags.
Luggage Covers Give You a Personality
Luggage covers come in pretty common colors and prints. Sometimes, you end up with a suitcase that is an unattractive gray or a very boring black. Having a luggage cover will allow you to showcase a bit more of your personality when traveling.
Luggage Covers Help You Easily Identify Your Own
Luggage styles and shapes can be so similar to the point that it can also be difficult to distinguish one from another.
Let's face it. One of the most frustrating things about traveling is trying to figure out your luggage among 20 other similar suitcases that look like it. Just as you reach out to grab what you think is yours, another passenger claims it and you are left wondering what would happen if everyone's luggage got switched around.
With a luggage cover that's personalized to your taste or is one that symbolizes something you really like, you won't have to wait forever at the luggage carousel. You'll be able to spot which one is yours faster and can quickly pick it up and proceed with the rest of your trip.
Besides, if you ever lose your luggage, it's a lot easier to describe "the medium-sized one with a neon pink leopard cover" than saying it is black with one zipper on the side.
Read Next: Luggage Straps: Are They Allowed and Should You Use Them?
3 Luggage Covers You'll Want to Check Out
If you're ready to shop for your luggage cover, Amazon offers a lot of great designs and styles. Here are the top 3 you might want to check out if you're thinking of getting one before your next trip:
1. Travelkin Washable Luggage Cover
If you're looking for a unique design for your luggage cover, Travelkin is the way to go. Their luggage cover designs are stunning. You'll definitely have no problem identifying your luggage on the airport carousel (unless someone has the same luggage cover as you have, but what are the chances?).
Travelkin's luggage covers are made of elastic material, making them durable and washable, protecting your luggage against further wear and tear. It comes with two openings at the top—one for the telescopic handle and the other for the carrying handle. Both sides have zippers where the side handle can come through. They come in 4 sizes and various colors, so you have many to choose from that suit your travel style best.
Best for: travelers who are looking for a luggage cover they can easily spot
Purchase at: Amazon
2. Yotako Clear Suitcase Cover
It may be a surprise to you that some travelers would go for clear suitcase covers, but these are a great favorite of passengers whose luggage may have unique designs already and they just want something to help protect their luggage further. This is also a perfect luggage cover to have if you're going somewhere where your luggage is bound to get wet.
This suitcase cover is built with a PVC transparent cover, making it stain-resistant, scratch-resistant, waterproof, and dustproof. When you're not using it, you can easily fold it and store it until your next trip. With its secure hook and loop closure that's easy to install and remove, it will keep your luggage secure so you don't need to worry about it while traveling and can focus on having a good time instead.
Best for: travelers with suitcases that already have striking designs but still want an additional protective cover
Purchase at: Amazon
3. HoJax Spandex Luggage Protector
While a plain, black cover might not be the usual choice you'd make if you're trying to get a suitcase cover that stands out, it's a good one to consider if you're looking for something for the purpose of protecting your suitcase and doesn't call too much attention to itself. After all, you can hardly go on a business trip with an outrageous cartoon or a fluffy pink unicorn plastered at the side of your luggage.
This luggage cover is stretchable, keeping your suitcase safe against dirt and scratches. It's easy to put on and comes in 4 sizes to fit almost any luggage. It has two side openings, for right- or left-handed luggage and two openings at the top for the handle and telescopic handle.
The best thing about it is that it's nice and sleek and closes at the bottom with velcro and an elastic strap with buckle, making it more secure.
Best for: minimalist travelers who are after protection over design
Purchase at: Amazon
Summary
Luggage protection covers have a lot of benefits—they can keep your suitcase from bursting open, they can help you spot your luggage more quickly, and they can protect your suitcase from scratches, dents, liquid spills, and more. The good news is, suitcase covers are allowed by airlines and TSA, as long as they are easy to remove. Rather than spending time worrying about what could possibly happen to your luggage, you can get a luggage cover and spend time enjoying the trip instead!
Also check out: Airplane lost property