Airports are wonderful places. They're abuzz with so much activity—travelers arriving and departing, planes flying in and taking off, people rushing to their gates. And not to mention the shops!
There's a chance that you've seen rows and rows of shops just before you board the plane. For some of the larger airports, there are even more shops, sometimes taking up several floors. If it's your first time flying, you might be wondering if you can buy some of the items and take a shopping bag on the plane.
This article will inform you about duty-free shopping bags and items and whether you can take them on the plane. If you've ever wondered whether you can take extra shopping bags in addition to your hand baggage or use shopping bags in place of suitcases and backpacks, this article will provide some answers so you know what to do the next time you want to do a little shopping before you take your flight.
Can You Bring Duty-Free Shopping Bags in Addition to Hand Luggage?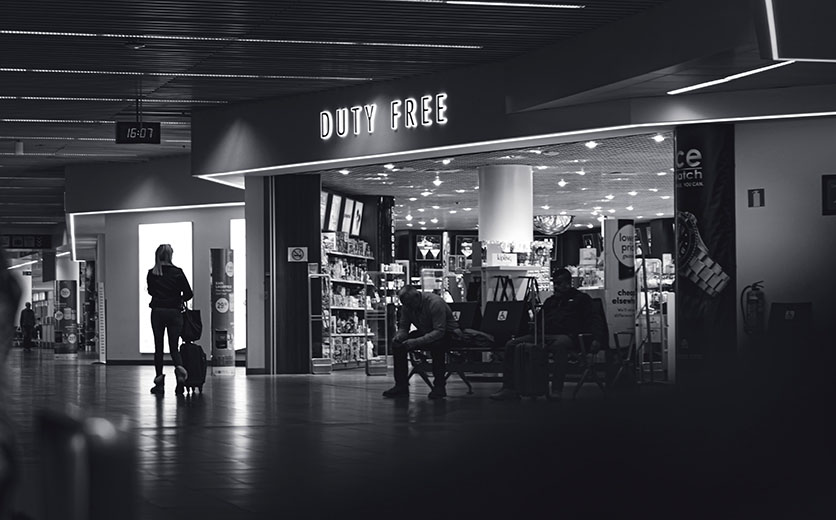 Yes. If you stop by the shops before boarding the plane, you can take the items you bought and the shopping bags they come with onto the plane. The good news is—they won't count as additional hand luggage, so you can bring as many as you want.
It's important to note that if you buy liquids from duty-free shops, they have to be packed properly. Usually, they are placed in a tamper-evident bag that you can get from the shop. This is needed in case you have to go through a security checkpoint.
You might also want to limit the number of items you purchase and bring. While there is no specific rule or limitation, you do want to be the model passenger and not carry too many to the point that it will inconvenience the other passengers and the crew. Also, always remember to keep the receipts to prove that you purchased these items from the duty-free stores.
Can You Use Shopping Bags As Hand Luggage?
As long as you are talking about the duty-free shopping bags or the bags that carry the purchases you make at the airport, then yes, you can bring them along with your hand luggage. Airlines won't charge you extra for these bags and they don't come with a limit.
Nevertheless, if you are thinking of using shopping bags instead of hand luggage, that is possible to some extent, but not completely advisable. First of all, plastic bags aren't as sturdy as backpacks, duffel bags, and other types of carry-ons. Second, your bags will still go through a security check. If people see that something is amiss, they might flag your belongings and you might still have to pay the excess baggage fees.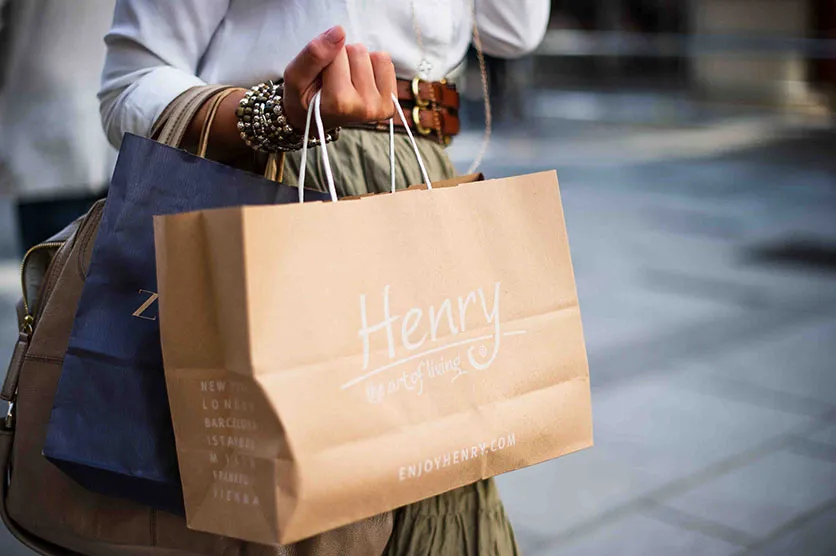 Shopping bags by themselves cannot be used as checked luggage.
You may wrap up your items with plastic, such as a backpack, a cardboard box, or even your suitcase itself to secure it further but using a shopping bag in place of checked luggage isn't advisable.
Shopping bags aren't sturdy enough and there's a high chance that they will end up tearing open and your things will end up spilling everywhere. We all know that luggage goes through a lot in the airport and sometimes even the most seemingly durable suitcases end up with scratches and tears. Imagine what would happen with shopping bags! When that happens, you might end up losing some of your items. Shopping bags won't protect your things if you have items that need some cushioning.
Sometimes, there will be some duty-free shops at the airport right before you check-in. If you want to include them in your checked luggage, the best option you have is to put them inside your suitcase instead of leaving them in their plastic outside your luggage.
If luggage weight is a concern, there are other ways to bring down excess baggage costs. One is by shipping your luggage ahead of time and the other is by placing your items in cardboard boxes, which are definitely a lot sturdier than plain shopping bags.
Tip: If you're looking for a sturdy checked suitcase, get a hardside on that's made by a reputable brand, such as the Samsonite Winfield 2.
Other Things To Remember When Bringing Duty-Free Items on Airplanes
Before you get excited and go on a shopping spree just before you board your flight, here are a few things you need to remember when bringing duty-free items on airplanes:
Make sure they are packed well.
Duty-free shops are just like other shops outside of airports. Even if they package your items in a box or shopping bag, you still need to be careful, especially if you will be buying liquids (like wine or perfumes) or other fragile items. Make sure they are boxed or packaged well to avoid spilling and making a mess. You will definitely be allowed to take them on board with you, but if you're going to store them in the overhead bin, you want to make sure they'll be safe even if they get bumped about during the flight.
Some stores sell items that are packaged in clear plastic bags that come with special security features. This helps you make it through screening, especially if the items you purchase are or contain liquids, aerosols, and gels.
Tip: If you're thinking about bringing wine bottles, get a pack of Wineskin bags, which are meant to seal wine bottles in bubble wrap and make them spill-proof.
Check the country you're flying to for possible restrictions.
Duty-free restrictions are different in each country. If you go over the limit, you will most likely be required to pay additional taxes for the items you purchased. Items that come with limitations and allowance restrictions are usually perfumes, alcohol, and tobacco.
Most countries will allow you to purchase 200-400 cigarettes. Alcohol, on the other hand, is usually restricted based on quantity and alcohol content. Fortunately, when you purchase any of these items at a duty-free shop, you will be asked for your boarding pass. This informs the retailer of your destination and determines how much you will be allowed to purchase. It also restricts you from purchasing items that are not allowed in the country you're flying to.
What Other Items Can You Bring On Planes for Free in Addition to Hand Luggage?
Most airlines allow you to bring other items—often called "personal items"—aside from hand luggage. Some examples of these would be a smaller bag, a backpack, or any item that fits under the seat of the passenger in front of you. Some passengers opt to bring laptop bags, cameras, briefcases, handbags, totes, garment bags, pet carriers, and more.
Personal items usually need to fit the following measurements:
Width: 6-9 inches
Height: 10-14 inches
Length: 17-18.5 inches
Of course, this may vary depending on the airline so it's best to check with the airline before your trip.
Aside from another "bag" as a personal item, you can bring other items on the plane for free that won't count as a personal item or carry-on. Some of these include the following:
Jackets
Diapers
Strollers
Duty-free items
Neck pillows
Walking canes
These items also vary depending on the airlines, so it's best to check with them before you take them with you. You don't want to take something along only to have them charge for it as excess baggage when you get to the airport.
Final Words
Traveling is a lot of fun especially when there's a bit of shopping involved—or even a lot! Airport shops and duty-free shops are great places to get a souvenir from the country you're departing from or to buy a last-minute gift for a loved one.
While it can be tempting to clear out the shelves especially if the items are affordable, remember that you can only bring so much and some items come with restrictions. Nevertheless, the good news is that you can bring these shopping bags in addition to your hand luggage, so you don't need to worry about the extra space and just enjoy your shopping.