Everyone knows how stressful the last few days before the vacation usually are. Your responsible inner voice always manages to creep in and whisper, "What if someone robs my house while I'm away? What if I forget to turn off the stove and the house burns down?"
The 'What if' is your enemy, and you need to get rid of it. And do you know what's the best remedy for the 'what if' syndrome? It's to make sure that you're prepared. You NEED to confirm that you've gone through, at least, the most critical stuff. And there's no better way of doing this than by going through a checklist and marking off the empty boxes one by one.
So go ahead and grab your printable PDF checklist of 30 things to do before traveling abroad and start ticking those boxes! If you want a more detailed version, continue reading down below.
1. Check the Expiry Date of Your Documents
Ensure that your passport, ID card, driver's license, bank cards, and other documents aren't about to expire. Most countries won't let you in if your passport expires in less than six months.
Remember that documents take a few weeks to renew, so do that at least a month before you depart.
Read Next: You Bought Airline Tickets Online. Now What? (Guide)
2. Email and Print the Most Important Documents
Scan your documents (passport, visa, driver's license, ID card), email them yourself, and print copies. In case they get stolen, the renewal process will go faster if you have copies on hand or in your inbox. Also, keep them separate from the original copies.
Tip: Get an RFID-Blocking organizer for all of your documents and keep all of them in a safe place.
3. Get Your Visa Ready
First of all, get a visa (if required) and check if the dates are correct. You'll find which countries need a permit at the official U.S. embassy's website.
4. If Traveling with Children, Get a Child Consent
A lot of people forget about child consent. If a child is less than 18 years old isn't traveling with both parents, you'll need written permission from the other parent.
5. Don't Forget to Print and Screenshot Check-Ins, Accommodations, and Tickets
It's a good idea to print or send to your phone all bookings, check-ins, airline tickets, tickets for attractions, and tickets for buses, trains, and metros.
6. Check If You Need an International Drivers License
You should get an International Drivers License (IDL), also known as International Driving Permit (IDP), which will allow you to drive in most countries. Though IDPs aren't required everywhere – you'll find a map that shows which countries require them over here. If you're living in the U.S., you can get them through the American Automobile Association, and they cost only a few bucks. You can fill the application online and later print a valid license.
7. Get Travel Insurance
First, check if your credit card already comes with travel insurance. If not, you should buy one. Ensure that it covers medical and juridical expenses, theft and robbery, lost luggage, and missed or canceled flights.
8. Get Vaccinated
Find out if you need any vaccines by visiting the official World Health Organization's website. The most common required ones are yellow fever, malaria, meningococcal disease, and polio. You can also call a local travel vaccination center, and they'll tell you which ones you need.
Remember that some vaccines have to be made a few weeks before your trip. Also, often you need to take multiple shots with some days between them. So you should get vaccinated early.
9. Pack Important Medicine
Most medications can be carried on board, according to TSA. Though you should make certain that your medicine is in its original packaging and in adequate quantities. Pack something to bring down the temperature, painkillers, bandages, a digital thermometer, pills against diarrhea, and something for sunburns.
10. Don't Forget the Prescriptions for Your Medications
If you use prescribed medicine, you should get your prescriptions before you go. TSA requires you to have them on board, and you'll need them if you run out.
11. Plan for Day Trips and Activities
Some like to keep their trips spontaneous, but it's often a good idea to book at least some activities in advance. Sometimes, you won't get the tickets on the spot because they're booked.
For instance, one of our staff members has an upcoming trip to Spain in two months, and he wants to visit the El Caminito del Rey, other known as "The world's most dangerous hike." He was shocked to find out that the tickets sold out months ago, and he was lucky to get a spot. So be like me and book the most important activities a few months early.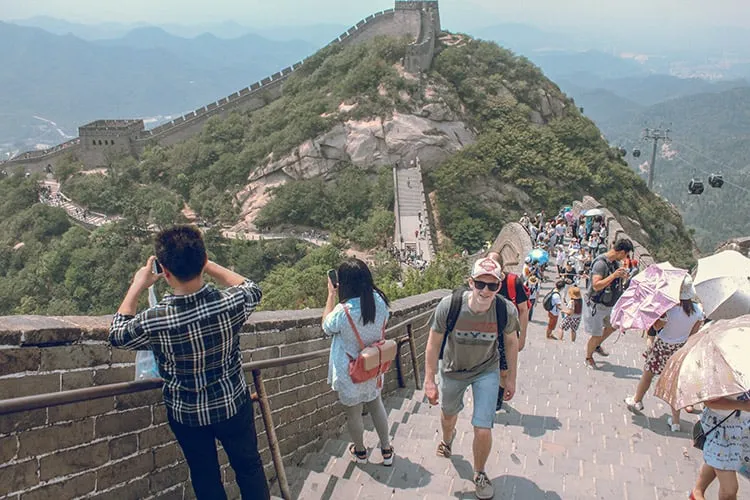 12. Check for Travel Warnings and Register with the Embassy
A few weeks before you go, keep an eye on the official U.S. Travel Advisories because they'll give out warnings for potentially dangerous countries and warzones. It would be a good idea to register with the local U.S. embassy before going, so they can give instructions to you if something goes wrong.
13. Inform Your Bank When and Where You're Going
If you're living in Ohio and your bank sees purchases from a different country, they'll think that someone has stolen your card. To prevent this, inform them when and where you'll be going.
14. Pay Your Bills in Advance or Set up Automatic Payments
This tip is an obvious one. You don't want to come back only to find out that you're in debt. I usually pay two months in advance to avoid nasty surprises.
15. Check the Exchange Rates, Atm Fees, and Exchange Some Cash
Learn what currency they're using and the exchange rate so you don't get ripped off. Also, visit your bank's website and write down the abroad fees for transactions and ATM withdrawals. It's usually cheaper to exchange roughly a hundred bucks before you go and withdraw the rest through the ATM once you're there.
16. Hold Your Mail and Set up Email Autoresponder
For your regular mail, you can ask the post office to hold your letters for a few weeks or ask your neighbors to pick them up. Also, don't forget to set up an autoresponder on Gmail, so your clients and colleagues know that you're away.
17. Check Your Phone Fees, and Maybe Get a Cheap Sim Card Abroad
Often it's a bad idea to use your phone abroad. You may receive charges even for incoming calls and messages, so instead, get a cheap SIM once you're there. To use SIM cards in other countries, you'll first need to open your phone,' which you can do at most mobile stores for a small fee. If you are using your own SIM, check the abroad fees, so you have a good idea of what to expect.
18. Find Someone to Take Care of Your Pets
If you have pets, arrange for your relatives, friends, or neighbors to take care of them or purchase pet sitting services.
19. Look at the Weather Forecasts
By finding out what the weather will be like, you'll be able to pack accordingly. Also, learn about potential hurricanes, flash floods, thunderstorms, tsunamis, e.t.c., and learn about what you should do in those situations.
20. Find out the Local Transportation Costs
Check the local costs for buses, trains, metros, and taxis – look for the average prices and discounts for specified-time tickets. Maybe opt-in for a rental instead? For instance, in most third world countries taxis are usually the best way of transportation, as they're pretty cheap. But sometimes it's even less expensive to rent a car.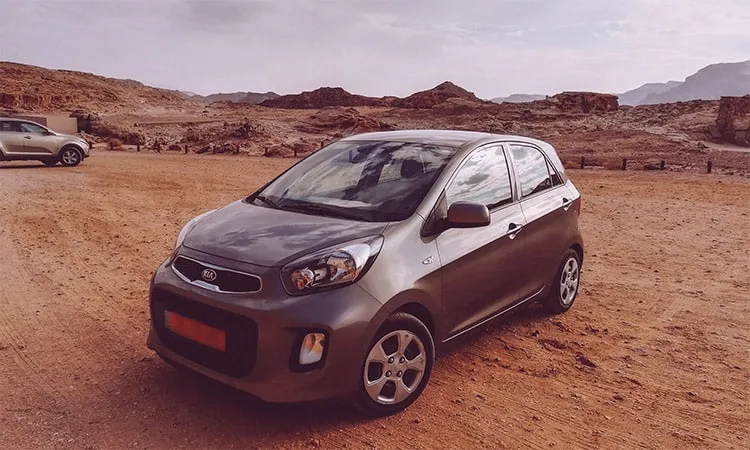 21. Learn the Airline Luggage Restrictions
Don't forget to check the restrictions before you start packing because you might exceed the weight or size limits. Also, don't forget to go through ALL connecting flights as well. One time, our staff member forgot to purchase onboard luggage on a domestic flight and had to overpay at the airport!
22. Get Adapters and Check for Dual-Voltage on Your Devices
Find out if you'll need an adapter and what voltage they use. For instance, the U.S. uses 110v, while the EU uses 220V. In this case, you would need to ensure that the voltage of your 110V electronics is also suitable for 220V.
Usually, you can see that in small letters on the charger ( 100-240V.) You can use voltage in that range; otherwise, your devices will fry.
Tip: Get a universal travel adapter, which works in most countries, so you don't have to purchase and carry multiple ones.
23. Download Offline Versions of Google Maps
Did you know that you can download offline versions of Google Maps? Generally, a 100-200 mile radius takes up around 250MB. If you do that, your maps will work as usual, and you'll be able to find anything you need at a glance. That's especially handy if you're planning on renting a vehicle.
24. Charge Electronics, Pack Memory Cards, and Chargers Delete Old Photos
TSA requires that your electronics have a full charge when you go through security, and they might ask you to turn them on. So charge your devices, don't forget to pack your chargers, memory cards, and delete old photos from your last trip, so you have enough space for new ones.
25. Plan Your Drive to and from the Airport
Arrange a friend to take you to and from the airport because parking is often full or very expensive at airports. We use a taxi or public transport.
26. Let Your Neighbors Know That You'll Be Away
If you're close with your neighbors, it might be a good idea to let them know that you'll be away. Tell them to contact the police if anyone comes snooping around or they see any activity in the house.
27. Unplug Electronics, Turn off the AC, and Turn down Water Heating
To save some utility costs, and potentially avoid electrical hazards, prepare your house before you leave. You should turn off your AC, or set it to low. Then, unplug all electronics and turn off your water heating or set it to a low temperature.
28. Clean Your Fridge of Fruits, Dairies, and Other Organics
You don't want to come home to the scent of rotten food! So you should plan ahead and throw out all organics that could degrade.
29. Water the Plants, Set Timers for Lights, Close the Blinds and Take out the Trash
Before leaving, use this final list to make sure you're all set to go:
Water the plants

If you have timers for lights, set your lights to go on at random times during the day to trick thieves

Close the blinds

Sweep the floors

Take out the trash

Change your bedsheets, because you'll be too tired to do that when you're back
30. Hide Your Valuables Someplace Safe
If you have valuables in your house, you should store them someplace safe. Hide your jewelry, silverware, and other valuables somewhere in your home, or, even better, rent a safe deposit box at the local bank.
The Bottom Line
There you go – your 'what if' syndrome has been cured! If you've read all 30 items in this list and made sure to follow them, you should be all set to depart on your long-awaited trip.
Are you searching for more tips for your vacation? Check out these 80 packing tips for international travel to make the most out of your luggage.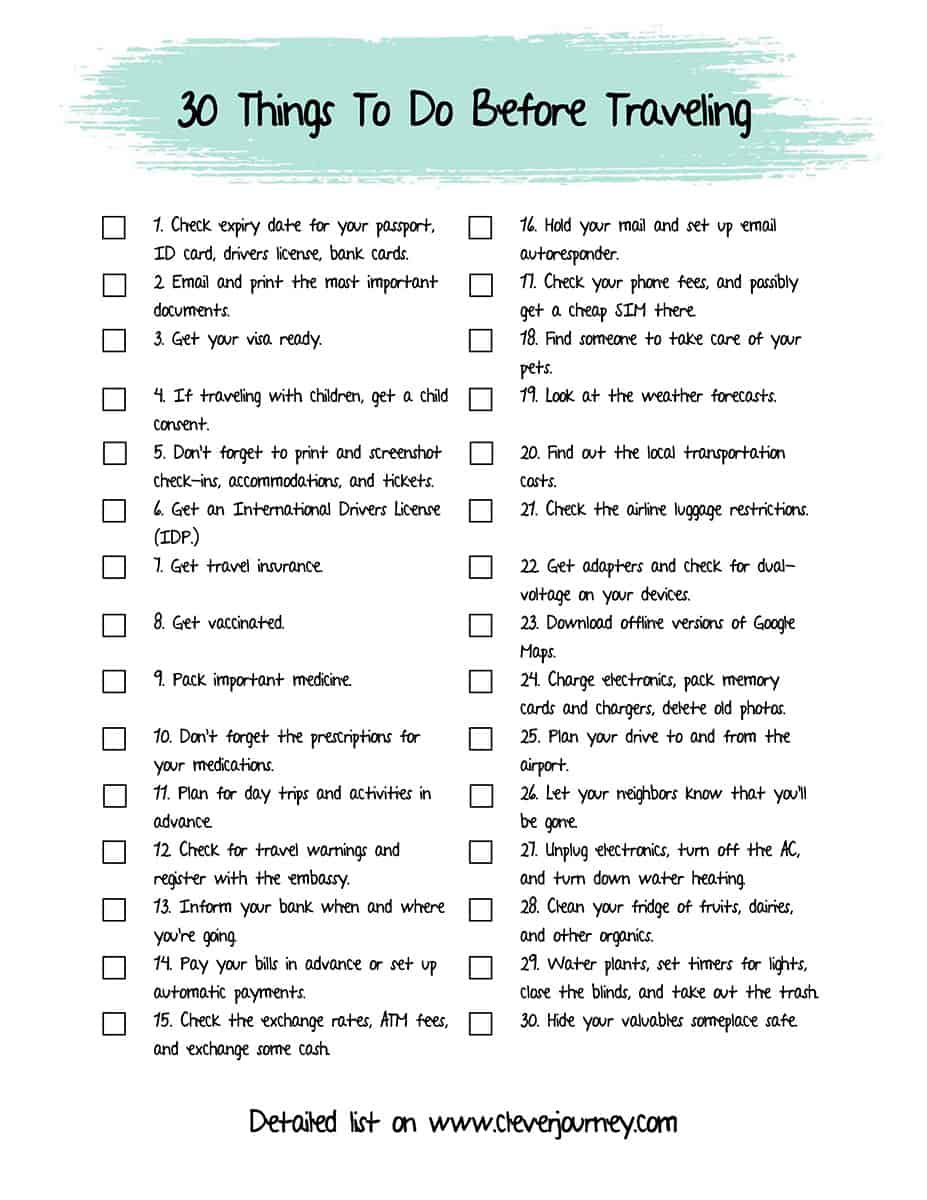 This post is also available in:
English