The Kenneth Cole Reaction Renegade 20-inch suitcase is an affordable carry-on made for fashion-loving travelers who like to travel in style. It's chic, comes packed with a variety of features, and has a top-notch build quality that can compete with some suitcases at higher price points.
In this Kenneth Cole Reaction Renegade 20-Inch Carry-On review, we'll be going into what makes this suitcase the best pick for you. We'll look at its durability, materials, moveability, features, and warranty. We'll also be comparing it to other carry-on suitcases in the same price range.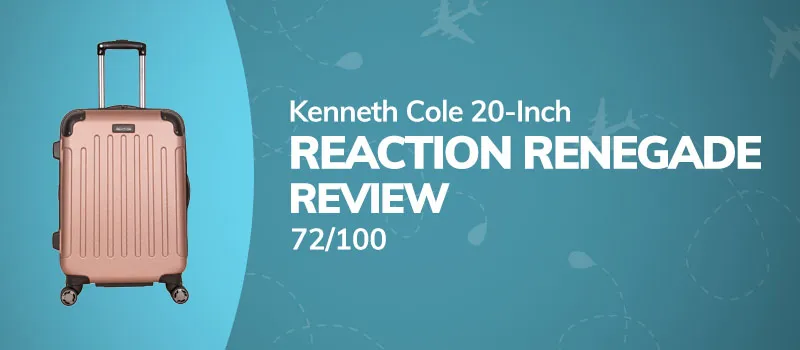 The Good
Reinforced corners protect the bag from cracks and dents
Has a ton of color options, including metallic shades
Multiple interior pockets help keep your items organized
The Bad
Slightly over international carry-on restrictions.
Doesn't come with a TSA-approved lock
Could be built from better materials
Quick Take
The Kenneth Cole Reaction Renegade 20-Inch carry-on is one of the most stylish carry-on suitcases for travelers on a tight budget. It rolls smoothly because of the multi-directional wheels and comes with multiple handles at the top, side, and bottom, all of which will come in handy should you need to stuff your suitcase under your seat or in an overhead compartment.
However, it lacks many additional features that you can get with bags at a slightly higher price. It doesn't include a TSA-approved lock and isn't durable enough for frequent travelers since it's made of ABS plastic.
Overall, it's a solid bag for semi-frequent domestic and international travel – just make sure to check your airline's requirements first.
Full Review
Dimensions & Weight (5/10)
The Kenneth Cole Reaction Renegade is a lightweight suitcase that comes in at just 7.35 lbs (3.33 kg). This puts it a little above the average weight of 6.93 lbs for hardside (plastic) carry-on luggage.
As for its measurements, the suitcase is 22 x 16 x 10 inches (56 x 41 x 25 cm) in size, putting it slightly above international carry-on luggage size restrictions which require carry-on luggage to be 22 x 14 x 9 inches in size.
Having said that, most Kenneth Cole Reaction Renegade owners haven't experienced problems with bringing their suitcases as a carry-on since it mostly depends on each airline's size policy for hand luggage.
Materials & Water-Resistance (10/15)
The Kenneth Cole Reaction Renegade is made of ABS plastic. While this makes the bag incredibly light compared to other suitcases of comparable size, it also makes the bag less shatter-resistant.
According to Kenneth Cole, though, they make their plastic suitcases from a more durable variant of ABS that's more flexible and shock-resistant. Though statements like these from manufacturers can't be taken at face value, the rarity of user complaints about the ABS shell breaking suggests it's true.
While there's no mention of water resistance, you can likely expect this suitcase to be somewhat water-resistant given that it's made of plastic. It will likely hold up in a drizzle, but don't expect it to keep your clothes dry in a storm.
Durability (12/20)
The Reaction Renegade has reinforced corners that help the suitcase keep its shape and survive drops that would otherwise cause cracks. This is a relatively rare feature to see in suitcases at this price point, making this bag more durable than many of its peers.
There are few complaints about the durability of this bag and they mainly have to do with the wheels. Some users reported that its wheels broke off in certain accidents. Given how few these complaints are, it also seems to be a quality control problem rather than a problem with the bag itself.
Read Next: Kenneth Cole Reaction Out of Bounds 28-Inch Checked Luggage Review
Moveability (14/15)
The Reaction Renegade has four double spinner wheels that let you move in all directions. The wheels roll smoothly on most surfaces and the telescopic handles expand and retract just as well. You won't have issues with moving this bag even if you pack it to its limits.
On rougher surfaces that won't let you roll your bag with ease, you can simply pick it up with any of the handles on the top, side, and bottom. While the top and side handles are fairly standard in quality suitcases these days, the bottom handle is a nice extra means of maneuverability that makes lifting it into an overhead compartment a breeze.
Additional Features (8/10)
The Reaction Renegade doesn't have many additional features which is understandable for a bag at its price point. Though it lacks a TSA-approved lock and a padded laptop compartment, it does have more organization pockets than many suitcases double its price.
If you're someone who normally carries a bunch of smaller organizer bags inside their main suitcase, this bag is for you. Aside from the adjustable clothing compression panel, it has a dedicated shoe compartment, two mesh pockets, and a zippered pocket.
One of the mesh pockets has a velcro closure, making it a great spot for storing smaller electronics and chargers that you need immediate access to after you get to your hotel room. The horizontal mesh pockets don't have a closure mechanism, but they're a good place to organize your underwear, handkerchiefs, and socks. Meanwhile, the zippered vertical pocket is the perfect length for storing personal grooming items.
If that's not enough room for you, you can expand the bag by an extra 2 inches – just the right amount of space for an extra pair of pants or two.
Design (9/10)
With 11 colors to choose from, you're bound to find a Kenneth Cole Reaction Renegade 20-Inch carry-on that suits your personal tastes and sense of style. It comes in 8 solid color shades and 3 metallic shades. If that isn't enough for you, the bag is also available in rose gold.
The bag design is the same as any typical suitcase, but the tasteful way Kenneth Cole decided to do their corner reinforcements manages to make this bag look a little like a vintage suitcase. They could also have left the wheels completely black, but instead, they painted the spokes silver to make the hardshell's color pop.
Warranty (5/10)
Though Kenneth Cole offers a 10-year warranty with their Reaction Renegade suitcase, it's a very narrow limited warranty that offers very little coverage. Essentially, it only covers manufacturing damage, which means loose stitching, failing zippers, or other issues caused by improper manufacturing processes.
The warranty does not cover wear and tear or damages incurred due to air travel. Shipping costs to their repair centers also aren't covered.
Value (9/10)
The Kenneth Cole Reaction Renegade 20-Inch carry-on isn't going to win awards for its durability, but it is a fantastic suitcase for its price. You'll even have a hard time looking for a bag that has this many handles, pockets, and color options at this price range.
Plus, while we've nitpicked a few things about this bag, the problems aren't really as big as they are in a practical sense. Very few users claim that their bags' wheels broke and even fewer have had to use Kenneth Cole's virtually non-existent warranty. The only real problem is the extra few inches that put its dimensions above international carry-on restrictions.
How Does The Kenneth Cole Reaction Renegade Compare to Similar Suitcases?
The Kenneth Cole Reaction Renegade 20-Inch Carry-On Luggage is an all-around fantastic suitcase in its own right, but if you need more packing features you may want to get the Travelpro Bold 21-inch carry-on instead.
Unlike the Reaction Renegade, the Travelpro Bold isn't a hardside suitcase, but the replacement of hard plastic for polyester and neoprene gives the bag space for additional pockets at the front. Instead of a bottom handle, it has a front handle that feels a little awkward to use. Both bags have double spinner wheels, though the Travelpro Bold has thinner wheel spokes.
If you don't mind the restriction-violating size, the Chester Minima 22-Inch Carry-On makes for an equally chic alternative. It has a distinctly more masculine aesthetic but is made of polycarbonate, the golden standard in luggage plastic. It's also much more durable.
If you're lucky enough to catch the Chester Minima on sale, it's a bit cheaper than the Reaction Renegade, otherwise, you're paying double its price.
Our Verdict
We won't claim that the Kenneth Cole Reaction Renegade 20-Inch carry-on is the best suitcase for its price since it lacks a few features and it's not the most durable option. A few things we really wish it had were a TSA-approved number lock and rubber wheels.
However, this suitcase is still one of the better 20-inch carry-ons because of the wide color selection and the number of organization options. Plus, it has four twin spinner wheels and all the handles you'll end up using on your trip, whether you're going to your hotel or boarding your plane. While its size may pose a problem with some airlines, few users have complained about needing to check in their Reaction Renegade carry-on.
If you're on a strict budget and need a suitcase now, the Reaction Renegade is a really solid choice. However, there are better options in the same price range, such as the Delsey Helium Aero carry-on.