Are you looking for a cheap yet elegant suitcase? Rockland offers a vast array of luggage, including both hardside and fabric suitcases. That said, you might be wondering whether Rockland's luggage is any good or not.
Well, then you're in the right place because, in this Rockland luggage review, we'll determine if they're a good choice or not. We'll take an in-depth look at what Rockland offers in various departments, like "Quality", "Price", and more. We'll also compare Rockland to similar luggage brands, like American Tourister and Coolife.

On Clever Journey's Best Luggage Brands, Rockland gained 64 points. This places the brand at 16th place on our leaderboard.
They took the last place in the affordable range and were pretty far behind Coolife and American Tourister.
You can see how we determined the 64 points over here. We'll go in-depth into each category down below.
The Good
Extremely Affordable. Rockland is by far the cheapest luggage brand we've reviewed. It's even cheaper than the brands in the affordable range! If you have some of Rockland's luggage on your watchlist, you might be able to purchase them for less than $40 a piece.
Well-reviewed. Rockland's reviews are one of its high points. Even though the brand produces relatively cheap luggage, its reviews on Amazon range from 3.8-4.5 or even 4.6 stars.
Colorful and good-looking. Rockland offers a wide array of designs that you can choose from. In fact, we've never seen so many patterns and colors by a single luggage brand!
The Bad
Not made to last. Rockland doesn't manufacture its luggage with quality in mind. As reported by many customers, the suitcases tend to break after the first few trips. But, amongst the tens of thousands of reviews, tons of customers were more than happy with their suitcases for many years.
Their warranty is basically useless. In addition to $10-20 shipping, you'll also have to pay a $40 "Evaluation fee" before your suitcase is even looked at. And even then, your luggage is not guaranteed to be covered. In most cases, it's cheaper to buy a new suitcase instead.
The luggage doesn't have enough features. Spinner wheels, expandable zippers, and some basic packing features are the only features offered by Rockland. So, don't expect anything more than the absolute essentials.
The support team is unhelpful. A support team should always help the customer. With Rockland, most customers have stated that the support team takes a long time to answer, and they'll rarely help you.
The Verdict
Although we wouldn't recommend Rockland luggage for frequent flyers, we don't think they're bad for people who travel for leisure. If you're using the suitcase only a few times per year, it will most likely last one to three years.
Their luggage is pretty good for children because it's colorful and printed in various fun patterns. Rockland's suitcases cost only a few bucks, so you won't be mad if your kids break them. Not to mention that they've recently introduced an entirely new line that's targeted towards younger customers.
That being said, in the affordable range, there are much better options than Rockland. If you're looking for the best options in the affordable range, Coolife or American Tourister are your best bets. However, brands like It Luggage, SwissGear, Merax, and Lucas are also great options.
But if you're looking for luggage that will stand up to frequent use, we'd recommend choosing something from the medium price range instead. If you're willing to pay twice as much, it's a wiser choice to go with Chester, Travelpro, or Samsonite instead. You could also opt for Ricardo Beverly Hills or Traveler's Choice luggage, which are equally good options.
Top-Rated Rockland Suitcases
Full Review
Key Facts About Rockland
Rockland by Fox Luggage was established in 1998. Every suitcase is designed in California, as they state on their website. Rockland mainly sells affordable luggage sets, along with hardside and softside suitcases. They recently released the Rockland Jr. line, which is their way to target a younger audience.
Rockland doesn't sell its luggage from its website. You'll need to purchase them from retailers like Walmart, Kohl's, or Target. However, due to their affordable price point, you'll usually find Rockland's luggage is not in stock on either one of them. Alternatively, you could also purchase Rockland's luggage from Amazon.
If you want to contact Rockland, your best bet is through their support page. But, as we'll explain below, you'll find that contacting their support team is not worth your time.
Reviews (20/30)
Between all the cheap luggage manufacturers, Rockland's suitcases are pretty well-reviewed. Most of their suitcases average 3.8-4.5 stars, which is relatively high, given how little they cost. Of course, if you were to compare their reviews with some more popular brands, like Travelpro, Samsonite, or Coolife, Rockland still has heaps to improve.
Rockland offers very affordable luggage with beautiful designs. But, its luggage lacks when it comes to quality and longevity, as many customers have stated.
We read all the reviews that we could find, and here are the most common issues that people mentioned:
Their hardside suitcases may smell weird when you first open them up – similar to rubber and plastics. But the good news is that the smell goes away after a while. We would suggest leaving the suitcase open for the first few days before finally using it.
Sometimes the products don't 100% match the description and pictures.
Many of their carry-on's are 1-3 inches above the dimensions mentioned in the product description.
The suitcases often get destroyed on the first trip.
But other than that, most people were happy with their purchases. We think that their reviews are so good because their prices are really low. For cheaper products, people don't expect that much and don't care about minor issues.
Quality (10/20)
Rockland has been able to keep its prices so low because it has been using cheap materials.
Instead of using polycarbonate, Rockland went with ABS for their hard shell suitcases, which is more fragile but cheaper. On the other hand, their fabric cases are made from polyester instead of nylon or more durable fabrics. They've also spared some costs on the handles, wheels, and zippers.
Based on all the reviews that we researched, here are the most common issues that their customers have experienced:
Their hardside suitcases can get cracks in the hard shell.
The zippers break easily.
The hardside suitcases get scratch marks only after a few uses.
Fabric bags can start to tear at the bottom.
Spinner wheels can break off if the bag is checked in.
The retractable handle can be wobbly and get stuck after a few uses.
Their suitcases will last anywhere from one to three years. Keep in mind that Rockland's warranty is practically useless. So, if your Rockland suitcase gets destroyed and you want to get it repaired, you should just buy a new one. We review Rockland's warranty more in-depth below.
We wouldn't advise choosing Rockland if you're frequently flying. However, if you're on vacation only one or two times per year, you might be just fine with Rockland. Also, consider getting their carry-on's instead of checked suitcases because checked bags are treated much worse than in-flight bags (thrown around, left in the rain, e.t.c.)
If you're looking for something more durable, check out Travelpro. We've been testing their luggage for a while now and were impressed by their durability. Although their suitcases cost twice as much, they'll last at least four times longer.
Features (7/15)
When it comes to features, Rockland's luggage is pretty limited. That's understandable since the suitcases offered by them are incredibly cheap. However, with Rockland, you'll still get the essential features, which is nice.
Most Bags Come With Spinner Wheels
Most of Rockland's luggage has spinner wheels, which are pretty much essential nowadays. Their durability is hit-or-miss, though, with some customers having had zero problems with them while others had their spinner wheels break on the first trip. So, they're not the best ones we've seen, but they're good enough.
Expandable Zippers on Most Suitcases
Almost all of their suitcases come with expandable zippers. This means that you'll get a few more inches in width when you're short on space. For instance, if you're low on space on the return flight, unzip the expandable zipper, and you'll get 20-30% additional space.
Comes With The Most Essential Packing Features
When you look at their most affordable options, they don't come with too advanced packing features. Basically, you get the same features as you would in the mid-2000s: A large inner compartment with compression straps and one zippered mesh pocket. Nothing too fancy.
Read Next: Rockland London 3-Piece Luggage Set Review
Design (15/15)
Although Rockland isn't as good as Mia Toro ITALY in design, they're very close. That's why they both got 15/15 when it comes to their design. And we're not the only ones who agree since most of their reviews are filled with comments on how good their luggage looks in real life.
Variety of Patterns and Colors
Rockland's luggage is usually available in more than 20 different colors. For instance, the Rockland luggage sets and the individual models we've included below come in tens of different colors and patterns.
Speaking of patterns, Rockland has the most unique and creative designs on a suitcase that we've seen. The "Vision" and "Departures" collections are the most beautiful suitcases we've encountered… and don't even get us started on the Rockland Jr. collection.
Simply put, Rockland's luggage is absolutely stunning.
Warranty (2/10)
Although Rockland's suitcases come with a three or five-year warranty, it's pretty much useless. If you want to file a claim for the warranty, you have to contact them by mail. Let me repeat that one more time. By MAIL! Not email, not telephone.
They do provide a contact email [email protected], but it's not for warranty-related inquiries.
Now comes the next part. Once you send the letter and wait for the response, you'll have to pay a $40 evaluation fee along with $10-20 for shipping. When you've spent $50-60 in total, Rockland will only then inspect the case and could deem it as not covered by warranty.
The price of a new suitcase starts at $40-60, so in reality, their warranty is pretty much useless. A wiser choice would be to get a new case and not even bother with the warranty. We gave Rockland's warranty a 2/10 just because they offer one.
Price (10/10)
We're impressed with how affordable their luggage is.
If you're looking for a single carry-on, expect to pay $40-60 or $70-130 for a 4-piece set. They might as well be the cheapest option on the market.
Not many brands offer such low prices, but those who do usually are less reliable than Rockland. From the price/quality standpoint, their luggage is a solid choice, and that's why we've given them the maximum rating of 10 points.
How Does Rockland Compare to Other Luggage Brands?
Rockland isn't the best luggage brand out there. It doesn't make sense for us to compare Rockland to Travelpro and Samsonite or even Ricardo Beverly Hills and Traveler's Choice since these brands are much better than Rockland in all aspects.
We got some interesting results when comparing Rockland to other brands in the affordable range (take a look at our Best Luggage Brands article for reference). While Rockland is the worst out of the seven brands, some aspects of the brand are far better than the competition. For instance, out of the 16 brands we've reviewed, the only one that comes close to Rockland's design is Mia Toro ITALY. The same can be said about Rockland's prices. Even the affordable brands don't offer their suitcases at such low prices. But, that comes with a cost when it comes to every other aspect of the brand.
While Rockland excels in design and affordability, it underperforms in quality and warranty. And when we say underperform, we mean that the durability of the suitcases is the worst we've seen, with brands like American Tourister and SwissGear offering much more outstanding quality for a few extra bucks. Their warranty is also abysmal, but that's not uncommon in affordable brands like Merax and Lucas. Rockland also lacks when it comes to the features that it's offering since they offer the essential features that suitcases have had for more than a decade.
When it comes to its reviews, Rockland seems to be ranking similarly to its fellow brands, except for Coolife, which ranks much higher than everything else in the affordable range.
So, when it comes to Rockland, you should opt to purchase one of their suitcases without expecting it to last for many years. If you're only traveling once a year, then this might be a match made in heaven for you. Absolutely stunning luggage that won't break the bank and that'll most likely last you for half a decade.
Read Next: Rockland Journey 4-Piece Upright Luggage Set Review
Individual Rockland Suitcase Reviews
The 20-inch carry-on from the Vision collection by Rockland is the best combination of quality and design. It's the most durable out of every other suitcase from Rockland, and it comes in many unique designs. Our favorites are the owl pattern (the one above), the heart design, and the night owl one.
The suitcase combines polycarbonate and ABS to remain affordable but still be durable. Rockland's carry-on has some essential features, like spinner wheels and a retractable handle. Most customers have said that the wheels are reasonably durable, while the handle is not the best out there. In fact, the handle is one of the biggest complaints that customers have had, with it being unreliable.
Once you take a deeper look inside, you'll get exactly what you'd expect from a suitcase in 2022. Two compression straps, a zippered pocket, and an elastic pocket. Both parts of the suitcase are equal and are divided by a fabric sheet. According to customers, the zippers are not great and are prone to get destroyed.
Overall, the Vision 20-inch carry-on is very similar to the American Tourister Moonlight 21-Inch Carry-On (full review), albeit it is a bit worse when it comes to quality. This is an excellent hardside carry-on suitable for people who travel 2-5 times per year.
The Rockland Melbourne 20-inch carry-on is Rockland's most popular hardside suitcase. It has received decent reviews, it's good-looking, and it is really cheap.
Its main weakness is that it's made from ABS, often used in cheaper carry-ons because it's less expensive to manufacture than polycarbonate. However, it's not as durable as polycarbonate. Many customers have criticized Rockland about the Melbourne collection since their suitcases got cracks on the shell after the first trip.
The exterior of the suitcase is fitted with four double spinner wheels for smooth maneuverability, side and top handles for carrying the bag, and a retractable handle for pulling the suitcase. A cool feature that's not included in the Vision collection is that Melbourne has expandable width. This one is also available in over 20 different colors to choose from.
The suitcase's interior is made in a split-book style, which is exactly like the Vision collection. In fact, it even has the same features as the Vision collection on the inside! And, according to the people who've bought the suitcases, this is also true for the below-par zippers.
The suitcase is similarly priced to the Merax P.E.T. 20-Inch Carry-On, and they both offer a cheap way to travel a couple of times per year.
The Rockland 2-piece carry-on luggage set is incredibly cheap. No, seriously. You can get this set for less than the hardside carry-on above! As a matter of fact, you can probably get two sets for the price of a carry-on from brands like Ricardo Beverly Hills and Traveler's Choice. Although it's not made to last, it's a solid choice for people who travel for leisure.
What strikes us the most is that this luggage set is available in a vast array of variations and colors. It might be the most designs that we've seen in any luggage so far.
When it comes to features, this set isn't too advanced. On the outside, you get two front pockets on the carry-on and one front pocket on the tote for all of your smaller gadgets. You can either carry the tote by hand, on your shoulder with a detachable shoulder strap, or keep it on top of the carry-on by securing it on the retractable handle. If you need to, you can expand the suitcase by using the expandable zipper, which will make the carry-on wider by an additional two inches.
Inside, the carry-on is fitted with a large main compartment, a large zippered pocket, and two compression straps, as with most of Rockland's luggage.
This 2-piece carry-on luggage set by Rockland is a must-buy. Where else can you get a set that'll last you a couple of years for less than $50?
Full review: Rockland Fashion 2-Piece Upright Luggage Set Review
The Rockland Melbourne 3-piece set is a part of Rockland's Melbourne collection. We've already specified most of the distinct features of this collection above when we reviewed the hardside carry-on. But let's take another look at them here.
The set is made entirely out of ABS, a cheap material that's not durable and is prone to breaking. Many customers have said that this is true, with many of them having their checked luggage broken after the first few trips.
However, the set does come in many different colors, which make it easy to spot on the conveyor belt. Each suitcase comes with a retractable handle and spinner wheels, which add a lot of points when it comes to maneuverability.
The inside of the bags is identical to every other suitcase from Rockland, so it's nothing special.
This set is excellent, but it lacks innovation. Then again, you can't buy many checked luggage for under $150 nowadays, let alone an entire luggage set.
Imagine if I told you that you could get a 4-piece set cheaper than most medium-tier carry-ons. Well, with Rockland, this has become a reality because this 4-piece set is ridiculously low.
It's available in three different colors and features a dotted pattern, which looks kind of cute.
In features, the bags are pretty limited. You'll get a few outer pockets for smaller items and only one pocket in the main compartment. It's good that these bags are expandable in width, except for the tote.
Another bonus is that all of the bags stack inside one another, resulting in less storage space when not used. They've used polyester and went for skate wheels instead of spinner wheels to shave off some dollars off the price.
To be frank, we're not even sure how they can sell them at such low prices. Just for our interest, we couldn't source any Chinese companies willing to make suitcases for less than $15-20 a piece. How is this set so cheap? We have no clue.
Don't purchase this set if you're frequently flying, though. It's not made to last, so don't expect it to. It's suitable for people who travel one or two times per year, and even then the set should last only 1-3 years. You could go for the American Tourister Fieldbrook XLT if you're looking for something a bit more durable.
Rockland decided to take it a step further with their designs. Its Departures collection offers us some of the most creative and stunning designs we've seen in suitcases. However, apart from that, it's just like every other suitcase from Rockland.
The suitcase is made from a mix of polycarbonate and ABS to remain sturdy and durable without costing a fortune. It comes with an adjustable, retractable handle and four double spinner wheels (8 in total). On the inside, you'll find a couple of compartments to fit in your clothes… and that's it.
The real selling point here isn't anything innovative or new. It's just another Rockland suitcase both on the outside and on the inside. The key selling point that many customers have adored is the fantastic design of the suitcase and its low price tag.
We can imagine that someone at Rockland thought, "Since most of our suitcases are targeted towards kids, why don't we just make an entire line for our young fans?". And that's exactly what they did. The Rockland Jr. collection is a beautiful set of cute designs for kids.
Each suitcase is made from polycarbonate, according to Rockland themselves. This is odd since the price tag is the same as their ABS luggage. But, we're not complaining! It also comes with a retractable handle which can be adjusted to different heights, and four spinner wheels for maneuverability.
The interior is just like a school bag, which is extremely cute.
But, once again, the key selling point is the design, which is definitely one of the best ones that Rockland has to offer. At less than $60, this is a tremendous first suitcase for your child.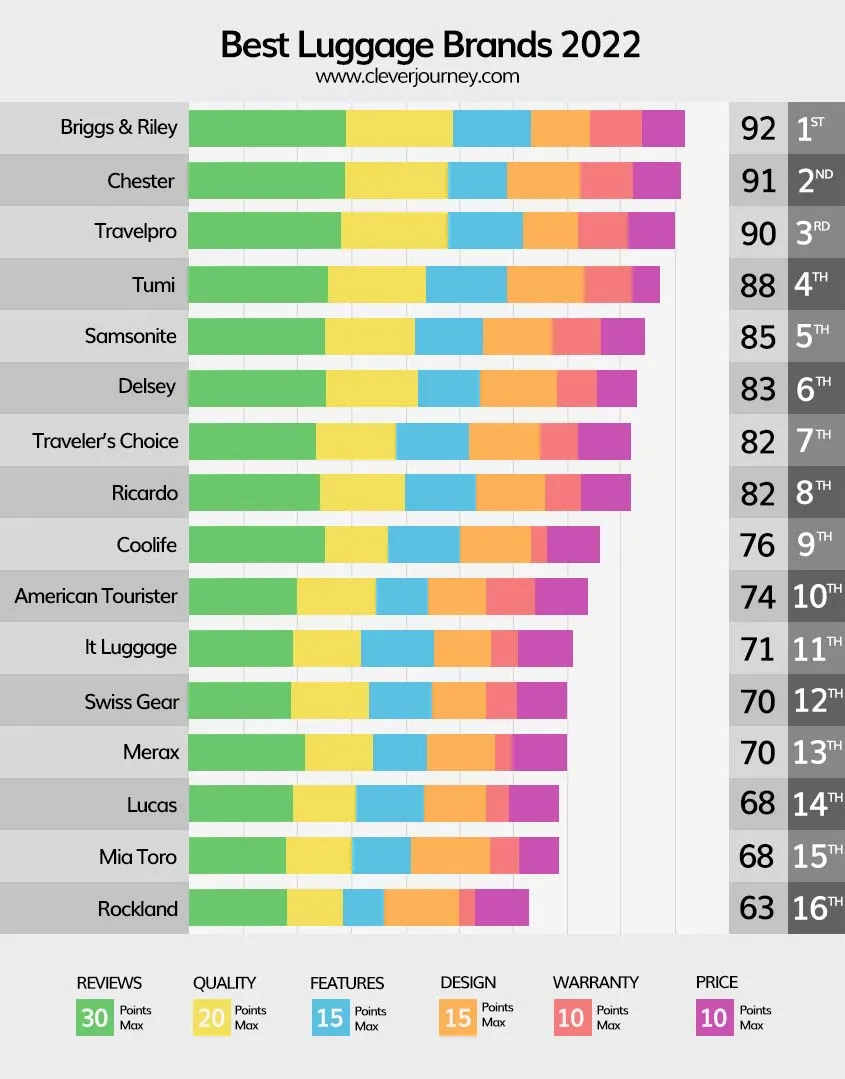 This post is also available in:
English