For over twenty-five years, the Rockland luggage brand has become synonymous with affordability and style and the London 3-piece set continues to live up to this standard. Offering great value for money and trendy designs, this set has excellent potential for your personal travel needs.
However, there are other factors that should be taken into consideration as well when purchasing an entire set of luggage. In this review, we'll take a closer look at the durability, features, warranty, and other aspects of the Rockland London 3-piece luggage set to help you solidify your decision. We'll also look at how the set ranks against some of its closest competitors.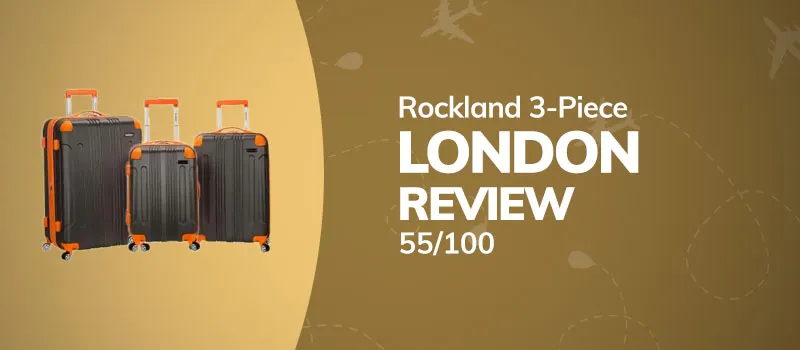 The Good
Extremely affordable
Lightweight
Easy to maneuver
Trendy and vibrant designs
The Bad
Prone to cracks and dents
Poor after-sales customer service
Luggage locks and wheels are of poor quality
Quick Take
The Rockland London double spinner wheel luggage set is super lightweight, affordable, and available in an array of beautiful colors to suit a variety of tastes. The suitcases are expandable and come with extra compartments to make packing your travel items easy and organized. The outer shell is also completely waterproof, protecting your valuables from damage and wet weather.
Unfortunately, the ABS used to manufacture the shell is not the best quality, so the luggage is prone to cracks and dents. Although the double-spinner wheels offer complete 360-degree rotation, there have been complaints of them breaking off if handled too roughly. Furthermore, overstuffing the compartments of these suitcases may lead to tears in the lining and broken zippers, making it important to pack wisely.
As such, the lifespan of the baggage will largely depend on how it's treated by airport staff and how often it's used. But, overall, the set is somewhat sturdy, functional, and given the price that it is sold at, it offers great value for money. With the right care and a few additional precautions taken, it's an acceptable choice for leisure travelers who don't travel too often.
Full Review
Dimensions & Weight (7/10)
This luggage set comes in three convenient sizes which can be utilized according to your specific traveling itinerary. Below is a breakdown of their various dimensions and weights, including wheels and handles:
20-inch: The smallest piece in the set measures 22 x 13.5 x 10 inches (55.9 x 34.3 x 25.4 cm), and weighs 6 lbs (2.7kg) when empty.
24-inch: The medium-sized check-in suitcase measures 24 x 15 x 10 inches (61 x 38.1 x 25.4 cm) and weighs 8 lbs (3.6kg) when it's empty.
28-inch: The largest suitcase in the set measures 28 x 17 x 12 inches (71.1 x 43.2 x 30.5 cm). It weighs 10 lbs (4.5kg) when empty.
All three suitcases offer two additional inches of expandability, and this combined with the set's lightweight structure allows you the freedom to pack as much as you need to without worrying about paying airline penalties. The dimensions of the smallest piece almost fit within carry-on baggage restrictions, and both checked pieces meet the maximum allowed size of 62 linear inches imposed by most airlines.
Read Next: Rockland Journey 4-Piece Upright Luggage Set Review
Materials & Water-Resistance (7/15)
The Rockland London 3-piece luggage set is made of a lightweight material called ABS, which is the most widely used substance to manufacture hardside luggage. It's cheap and hard, allowing relatively good protection at a low price.
Unfortunately, ABS isn't the most durable material out there because its rigid makeup causes inflexibility that results in cracks and breaks. Since you'll be taking the carry-on piece with you throughout your journey, you'll have total control over how carefully it is handled. To circumvent this issue with your checked pieces, it may be wise to purchase luggage protectors or have your suitcases wrapped in plastic before checking them in.
On the plus side, the hard shell is waterproof (except for the zippers) offering peace of mind that your personal belongings and valuables will be safe and secure from the elements. The surface is also easy to clean, as simply wiping it off with a wet cloth should get rid of any scuffs and dirt from your trip.
Durability (11/20)
Usually, quality doesn't come cheap, yet the Rockland London range offers relatively sturdy luggage at an affordable price. Unfortunately, no one has much control over how airline ground staff handle their suitcases, and in this case, this could definitely cut your luggage set's lifespan short. Despite the vast majority of those who bought this set being mostly satisfied with their purchase, a handful of customers felt that the durability was questionable as their bags fell apart.
Regularly reported Issues were cracking at the wheels, handles and zippers breaking, wheel covers falling off and the inside mesh and lining tearing. One of the main disappointments was the many scratches that the luggage suffered because of careless handling at airports, however, this is a common issue with any luggage set manufactured from ABS.
Having well-balanced suitcases would be helpful in preventing cracks and dents, as underfilled bags are more prone to these. This will also help prevent damage to the lining and zippers of the luggage. Care should also be taken to handle the luggage gently and not pull it roughly over uneven surfaces. With the right approach, this set has the potential to last you a good few years.
Read Next: Rockland Fashion 2-Piece Upright Luggage Set Review
Moveability (11/15)
The 3-piece set is fitted with double spinner wheels which allow for 360-degree maneuverability. Because of their multi-directional capabilities, speed, and ease of movement in and around airports are a breeze. Most customers are happy with the fluid movement that allow for smooth rolls and turns, as they make maneuvering your bags on both hard and carpeted surfaces effortless.
Although the wheels have been supported and strengthened at the corners, there have been some reports of these covers breaking off quite quickly. However, this is often not caused by any specific rolling movements, but rather by how the luggage is handled once checked in.
The handles and straps on this bag make it easy to maneuver your suitcases without placing too much strain on your wrists. Each bag is fitted with a modern internal chrome telescoping push button handle that can be used to pull the suitcase behind or alongside you as you check in and board. You'll also find conveniently placed straps on the top and side of the suitcase, as well as feet that allow you to place your luggage down on its side without causing damage to the outer shell.
Additional Features (4/10)
Given the convenient pricing of this set, one cannot expect too many frills, but it does come with a few extras that go a long way in adding to its appeal.
Packing Potential
If you're someone who enjoys optimizing their packing, the Rockland London set will be a pleasure to use. Each bag opens down the middle, offering two spacious compartments, for clothes, shoes, or any other items you'll be taking on your journey. One of these is zippable, and the other is fitted with nifty elastic compression straps that prevent unwanted movement of your contents in transit.
You'll also enjoy a mesh bag and additional elasticated compartment that make it easy to keep toiletries and other valuables separate from your larger belongings. These can be accessed quite easily if you need to open up your suitcases during the trip too.
Lastly, if you struggle to pack lightly, you will have the benefit of an additional two inches of space when you make use of the luggage's expandability. However, be sure not to overstuff your bags if you want to avoid tearing of the mesh or inner lining.
Locks and Keys
Although the set isn't fitted with a TSA-approved lock, Rockland has provided small combination locks for added safekeeping of your contents. Unfortunately, you will run the risk of these being broken by airport security if they want to examine your luggage. The provided locks may not be of the highest quality, so if you're particularly concerned with security, it would be wise to purchase more heavy-duty ones.
Design (8/10)
Without a doubt, the most standout feature of the Rockland London 3-piece luggage set is its stylish and fashionable designs, which make the suitcases trendy and eye-catching. Not only will you be the envy of other travelers for toting a stunning suitcase, but this feature also makes it easy to quickly identify and retrieve your luggage off the carousel.
Available in nineteen striking colors, there is definitely something for every taste. From elegant black for the serious businessman to funky yellow for those heading out on a fun getaway, you are sure to find a shade that suits your individual needs.
Each bag is lined with a patterned silky fabric which might not be to everyone's tastes, so it's important to take a closer look at the interior of your chosen design before finalizing your purchase. Some customers also complained about a strong chemical smell in the lining that they weren't able to get rid of easily, so this could prove problematic if it transfers to your clothing during use.
Fortunately, you won't need to worry about this set taking up too much space in your closet, as the suitcases conveniently nestle together. This means you can pack them inside the other for easy storage.
Warranty (1/10)
Rockland Luggage is backed by Fox Luggage Inc. which offers a warranty for a period of five years after purchase. However, because Rockland luggage is incredibly cheap, claiming its warranty is close to impossible. The warranty is extended only for workmanship defects, and no claims relating to wear-and-tear or accidental breakage will be entertained.
Even if you do find manufacturing defects in your luggage, you'll need to pay shipping and handling fees simply to have the damage assessed by the manufacturers. If you choose to follow through with this, and the claim is approved, Fox will compensate you by repairing or replacing your luggage and having it shipped back to you.
Value (6/10)
If value for money is what you are looking for, then the Rockland London 3-piece luggage set delivers. It's lightweight, thoughtfully designed, and able to meet all your travel needs without breaking the bank. You'll have a number of sleek designs to choose from and you won't have to worry about exceeding airline size restrictions.
As with any luggage set within this price range, durability isn't the London's strong suit, however, with the right level of care, you'll be pleasantly surprised by how long-lasting these suitcases can be. With extra packing pockets, smooth spinner wheels, and telescopic handles for easy movement, the set has made up for its shortfalls and has exceeded the expectations of most who choose to purchase it.
How Does the Rockland London Compare to Similar Suitcases?
Rockland offers a number of luggage sets with similar design elements and price points, however, it's vital to take a closer look at their most important features when choosing the right set to meet your travel needs. While the Melbourne 3-piece set may appear completely identical to the London at first glance, there are a few key differences that may prove to be of great importance.
The Melbourne set isn't fitted with reinforced corners on its exterior shell like the London is, so you may find that its shock absorption isn't as good, making it more prone to cracks and breaks. Furthermore, the interior has fewer compartments, which may not appeal to those who enjoy organizing their belongings. Lastly, you'll have fewer color choices with the Melbourne, and the exterior design offered by the London is far more elegant.
Although this set falls within a similar price range as the Rockland London, it offers a number of standout features that make it the superior choice. You won't need to worry about cracks and breaks in the outer shell of this suitcase as the exterior is manufactured from polycarbonate – a material that is notably stronger and more flexible than ABS. The handles and wheels are remarkably durable too, having been shown to take a fair bit of pressure with no signs of breakage.
While you won't have as many colors and patterns to choose from, the options available in the Fochier set are sophisticated and offer a look of luxury that isn't available with the London. The interior offers decent compartmentalization, with a large mesh pocket on the separating panel that makes it convenient to store items you may need to access at a moment's notice.
Unfortunately, this luggage set does not offer expandability, but it is more lightweight than the London, making it an attractive choice for those who are heavy packers. Plus, it includes a TSA-approved lock that adds an additional peace of mind while checking in and boarding.
When it comes to 3-piece luggage sets, this range from Showkoo has been wildly popular and very well-received by customers. The set combines ABS and polycarbonate to offer a tough exterior shell with a textured finish to protect it from scratches. There are lubricating bearings inside the wheels that allow for smooth, silent movement, and the adjustable 3-step telescoping handle means that you will enjoy easy maneuverability in small spaces.
Perhaps the most elegant aspect of this luggage set is the beautifully-designed interior lining that strikingly contrasts the color of the outer shell. There are a number of segments and pockets available for the convenient compartmentalization of your items. You can expand the suitcases if needed, and safely zip them closed using the TSA-approved lock that has been fitted.
Our Verdict
The Rockland London 3-piece luggage set offers great value, but it isn't built to last a lifetime. The suitcases are lightweight and meet all airline size restrictions, yet expandable with extra storage compartments to make packing easier and more organized. Because of the telescoping handle and double spinner wheels, traveling with this luggage set is effortless.
Unfortunately, if durability is your number one priority in a luggage set, this may not be the right choice for you. The rigid ABS shell and poor component quality may result in breakages sooner than you'd like, and with no real warranty to fall back on, you may find yourself inconvenienced and frustrated. With that being said, any piece of luggage can stand the test of time with the right care, so it is possible to increase the lifespan of this set by taking extra precautions.
If you need something lightweight, affordable and in bright and vibrant colors that will have you standing out from the crowd, you won't go wrong with the Rockland London 3-piece set.