We use affiliate links, and receive a small commission if you make purchases through them.
Find out more here.
Some expensive brands, like Hartmann, Victorinox, and Bric's make suitcases that are only good for leisure travel and usually aren't durable enough for frequent traveling. An expensive price tag doesn't always mean that the product itself is well-made. In fact, quite often when you compare a 1000$ case with a 200$ one, the cheaper one is more durable.
In this article, we'll share 11 durable luggage brands, ranked from most to less durable. That said, all brands mentioned in this list offer well-made suitcases that should withstand frequent travel.
Of course, the quality of each suitcase varies from model to model. But here we're talking about the overall, average quality of the brand as a whole, not each suitcase individually. On Clever Journey, we've tested suitcases from most luggage brands, and during this time we've gained a lot of expertise on this subject, so we know which brands make good suitcases and which don't.
Most Durable Luggage Brands (In Descending Order)
1. Pelican (200-400$)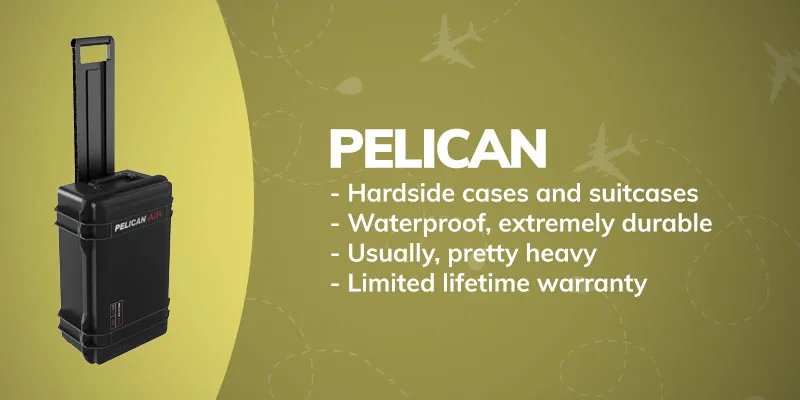 Pelican is a well-known protective storage equipment manufacturer that also sells a wide variety of suitcases. They're most commonly used by people who need to protect expensive gear, such as photographers, videomakers, technical workers, professional athletes, and so on. They make some of the sturdiest suitcases out there, which are close to indestructible.
You'll find a wide range of suitcases and briefcases offered by Pelican – ranging from carry-ons to large checked bags, with and without wheels, with large padded compartments and multiple smaller ones for organizing specific gear, and so on. They're an especially smart choice for checked luggage because checked bags often get damaged by harsh baggage handling conditions. Another bonus is that they're zipperless and that they come with TSA-approved locks, which means that they're much harder to break into while they're checked in.
And what's even better – Pelican sells their cases for quite reasonable prices. When you consider how durable they are and how long they last, Pelican offers some of the best value-for-money among all the luggage brands out there.
The only downside with Pelican cases is that they're quite heavy, weighing 50-100% more than a similarly-sized fabric alternative and that they're quite limited in design. For example, we imagine it might be a bit weird for a Business traveler to travel around with a Pelican case.
Shop Pelican on Amazon
2. Briggs & Riley (400-800$)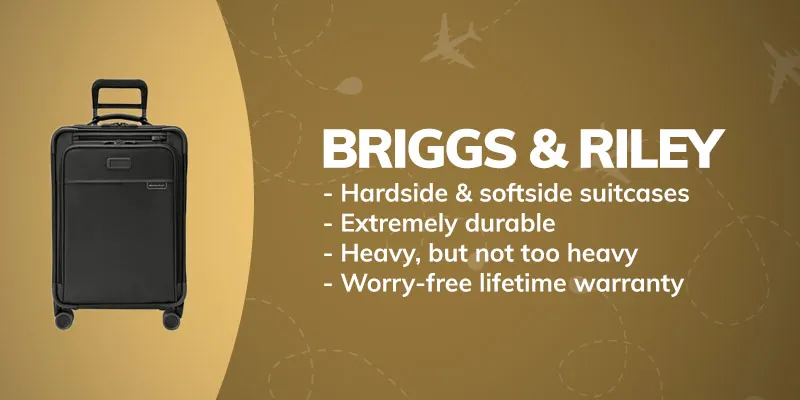 Briggs & Riley is a premium luggage brand, which is especially famous among flight crews, pilots, and frequent travelers. In fact, in our Best Luggage Brands ranking, Briggs & Riley took first place among all other brands. From our own experience, they make the most durable fabric suitcases out there.
Even though their suitcases are fairly expensive, we don't consider them as a luxury luggage brand. Their products are fairly priced because they use only premium materials and they come with many useful and innovative features. For example, they have an innovative compression system that utilizes two latches, and most of their suitcases come with suiter compartments that get the least amount of wrinkles.
But where they really shine is their lifetime warranty, which is hands-down the best one among all luggage manufacturers. All defects are covered, even airline damage, shipping costs are covered, and you don't even need to show a receipt in order for it to work. The only thing that isn't covered by this warranty is normal wear and tear.
The only downside with Briggs & Riley is that their suitcases are somewhat heavy (although not as heavy as Pelican cases) and their style variations are minimal. In terms of design, they're targeting only business travelers, so you'll find color options only in dark, classic styles.
Read Next: Best 28x22x14 Luggage for Amtrak in 2022
Shop Briggs & Riley on Amazon
3. Rimowa (800-2000$)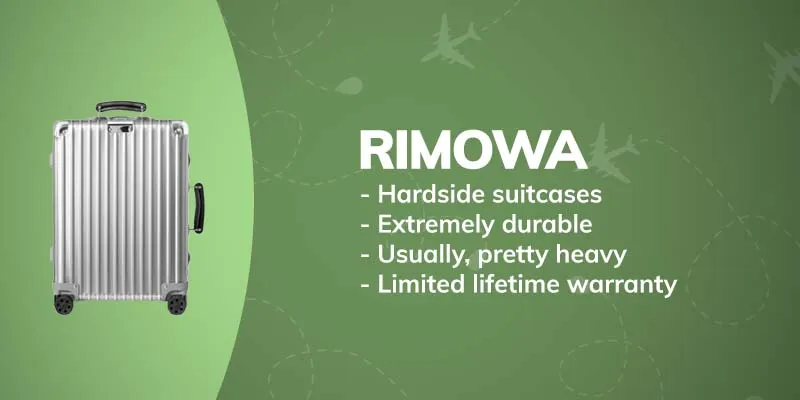 From our own experience, Rimowa makes the most durable hardside suitcases. They offer a wide range of aluminum and polycarbonate suitcases, which are extremely durable.
However, over the years, Rimowa has considerably changed. Two decades ago everyone knew that Rimowa is the go-to brand if you're looking for durable luggage. However, now it's turned into more of a luxury item. They're one of the most expensive brands out there and we'd say that their products are marked up about twice as much as they should be (when compared to similar alternatives), only because of their brand.
Rimowa used to offer a basic 5-year warranty, but since 2022, they've started offering a limited lifetime warranty. Essentially, it covers any physical defect, except accidents, misuse, and damage by third parties.
So to sum up, Rimowa still makes very durable suitcases, but they're marked up a bit too high.
Read next: Rimowa vs Tumi: Which Brand Makes More Durable Luggage?
Shop Rimowa on Amazon
4. Tumi (500$-1200$)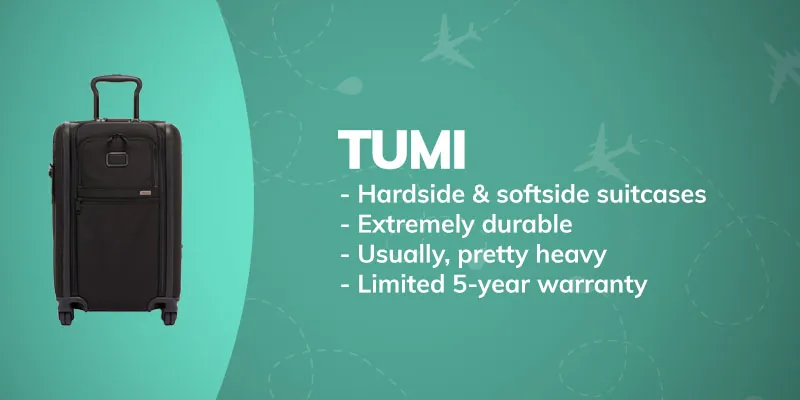 Tumi is another luggage brand that makes very durable suitcases – both fabric and hardside ones. They use premium, innovative materials, such as their patented Tegris material, and they come with many unique features. Tumi is a brand that's often used by pilots, flight crews, and frequent travelers.
But similar to Rimowa, Tumi has also changed over the years, though not as much. They used to offer a lifetime warranty but when they were bought by Samsonite, the lifetime warranty was cut and now it covers only five years. That said, the warranty terms are still very good, only for a shorter time.
In terms of quality, they still make similarly durable suitcases, except now they're priced more. You can expect to get a similar case as you would from Briggs & Riley, except you'd pay about 200-400$ more only because of the brand. That said, they definitely aren't as expensive as Rimowa.
Read next: Tumi Alpha 3 22-Inch Carry-On Review
Shop Tumi on Amazon
5. Thule (200-500$)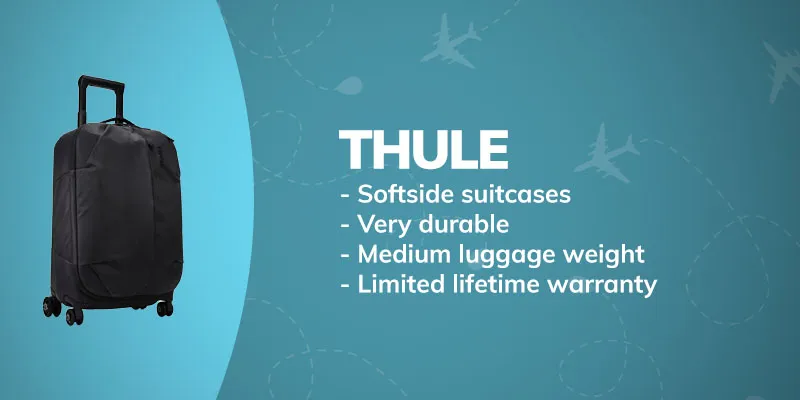 Thule is a high-end brand that many outdoors enthusiasts are familiar with. They're best known for making car accessories, such as roof racks and bike carriers, but not many people know that they also make all kinds of other travel and outdoors products, including luggage. You'll find various softside and hardside suitcases, as well as backpacks and duffel bags. Even though they added luggage to their product line just several years ago, back in 2010, they've been making durable car accessories since 1942.
And what's even better – Thule isn't really that expensive either. Although their suitcases are somewhat expensive, they aren't overpriced too much. That's because their suitcases are made from premium materials, and they're usually really durable. Many people have kept using Thule's products for over a decade without any significant issues.
Another awesome thing about Thule is that all of their luggage comes with a limited lifetime warranty. Although it doesn't cover airline damage, it's still a really solid warranty, which covers most other defects.
Shop Thule on Amazon
6. Away (200-600$)
Away is a somewhat new luggage manufacturer, which gained popularity by making durable smart suitcases. Although their suitcases aren't really that smart (they just come with a removable power bank and charging ports), they're really good-looking and they're very well-made.
Away makes only hardside suitcases, made either from polycarbonate or aluminum. People have been using them for many years now without any significant durability issues, which is why we've included them in this list.
Another great thing about Away is that all of their suitcases come with a lifetime warranty. Although it's named "limited lifetime warranty", it's actually much closer to an unconditional one, such as the one you'd get from Briggs & Riley. It covers any cracks in the shell, broken-off spinner wheels and handles, broken zippers, and fabric tears that render the usability of the suitcase. Furthermore, airline damage and accidents are also covered. It doesn't cover only normal wear and tear and damage due to being locked out of the suitcase (forgetting the TSA keycode).
And lastly, Away suitcases aren't actually that expensive when compared to other premium brands. Their aluminum model is quite expensive at first glance, but when you compare them with similarly-durable alternatives from Rimowa or Tumi that cost twice as much, it ends up being a really good deal.
Read Next: Away vs Rimowa: Which One Makes More Durable Luggage?
7. Osprey (100-300$)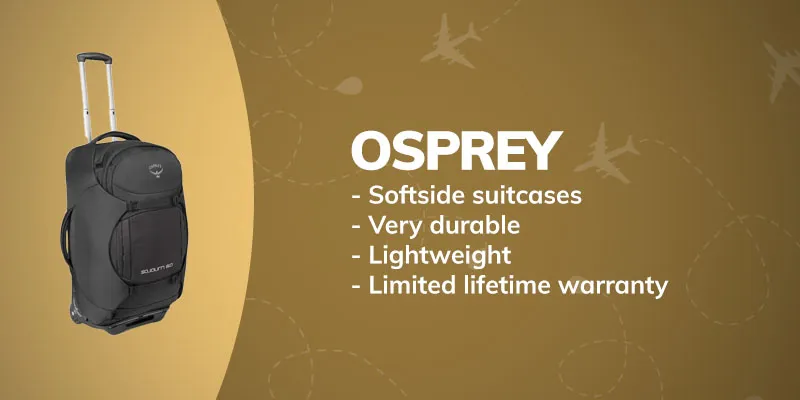 Osprey is best-known in the outdoors community for making super comfortable backpacks for hiking and traveling. However, they've recently started selling a few wheeled suitcases as well, which have gained a lot of popularity.
Their suitcases don't resemble the typical suitcase looks. Instead, they're going for a backpack/suitcase hybrid, and some of their models even come with shoulder straps, which means that you can carry them on your back as well. Due to the soft frame and other lighter elements, their suitcases are extremely lightweight – about 1-3 lbs lighter than similarly sized, lightweight fabric alternatives.
In terms of durability, Osprey has always been making durable products. Their backpacks usually last 5-10 years of moderate use and you can expect something similar from their luggage because they use the same elements in manufacturing.
In addition to that, all Osprey products come with their "All Mighty Guarantee", which covers any defects for any reason free of charge for a lifetime. Their warranty terms are very clear about this and there aren't any hidden clauses. If the suitcase is beyond repair, they'll send a replacement.
Another thing about Osprey is that their suitcases are somewhat affordable. They aren't cheap, but they aren't expensive either. For a suitcase that's this durable, their prices are very adequate.
Shop Osprey on Amazon
8. Travelpro (100-400$)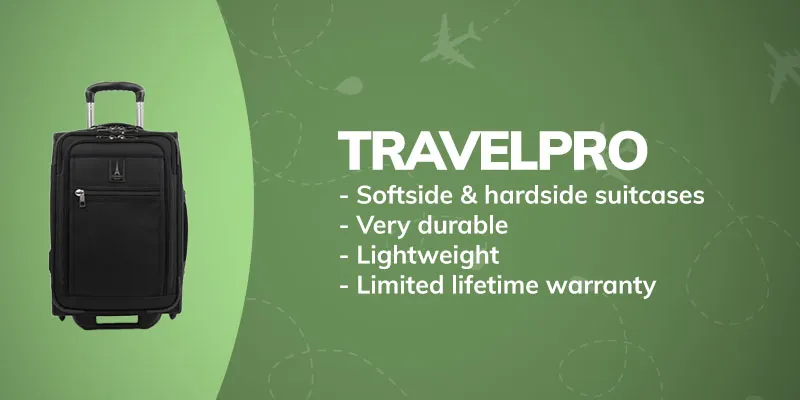 Travelpro is another durable luggage brand that's popular among pilots and flight crews. In fact, Travelpro supplies over 90 different airlines with luggage for their flight crews, and they even offer a line of suitcases that are available only for flight crews. The reason why they're so popular among flight crews is simple – they're affordable, durable, and packed with useful features.
They offer a wide range of products – hardside and softside suitcases, totes, duffel bags, and backpacks. Even their cheapest line of suitcases – the Maxlite 5 – is quite sturdy, which is why we usually recommend the Maxlite 5 carry-on for our readers as the best fabric carry-on for most occasions.
On their premium suitcases, Travelpro even offers a limited lifetime warranty, which covers most defects except accidents, misuse, and normal wear and tear.
But what really makes Travelpro so good is that they're priced very accordingly. You'll get a very well-made suitcase that will last you for years for a not-that-high price tag.
Another bonus for Travelpro is that their suitcases are very lightweight, especially the fabric suitcases from the Maxlite 5 line. They aren't the lightest suitcases on the market but compared to the competition, they're much lighter.
Read next: Samsonite vs Travelpro: Which Luggage Brand Is Better?
Shop Travelpro on Amazon
9. Eagle Creek (100-300$)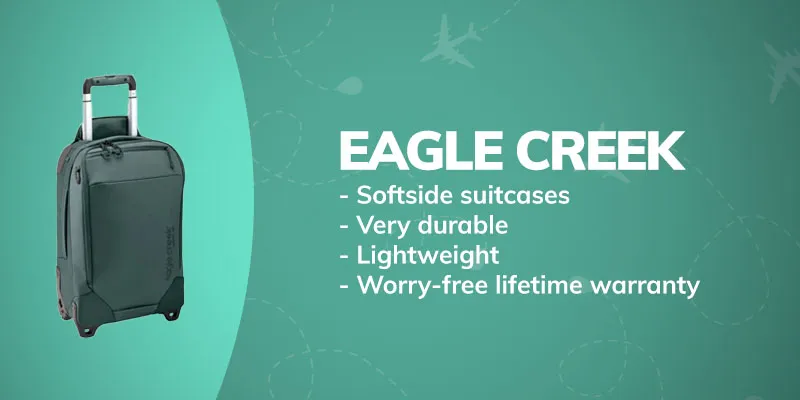 Eagle Creek is a brand that's very popular among outdoors enthusiasts. They're better-known for backpacks, duffels, and packing organizers, but they also offer a few fabric suitcases, which are priced really affordably.
Although their line of suitcases has only been added recently, their other bags have always been really durable, and many people have reported that their suitcases are similarly durable.
All of their suitcases are backed up by their "No Matter What Lifetime Warranty", which covers any defects that make the product unusable. Note that lifetime is defined as the lifetime of the product, not lifetime as in your lifetime. This is determined by checking the condition of the suitcase – if the color looks discolored over time if the wheels look worn-down and so on, the suitcase will probably be deemed as reached the end of its lifetime. That said, Eagle Creek will still provide repairs at reasonable costs if needed for all of their suitcases.
The only downside is that Eagle Creek's design is not for everyone. It's targeted towards adventurous people, not business travelers.
Shop Eagle Creek on Amazon
10. Samsonite (100-300$)
Samsonite is the most popular luggage manufacturer, and their suitcases usually last 5-10 years. Similar to other Samsonite companies, their quality used to be a bit better two decades ago, but they're still pretty durable even today.
They sell a wide range of suitcases, backpacks, duffels, totes, and more. Their suitcases range anywhere between 80-600$, but personally, we think that anything from Samsonite costing over 200$ is overpriced. Their more expensive models are pretty similar in terms of durability to the ones in the medium price range. If you manage to catch some of their mid-tier suitcases on a sale for 120-200$ (Omni PC, Winfield, Freeform, or Centric), you're getting a pretty good deal.
Samsonite has always been known for good customer support and good warranty terms. Even though their terms aren't as good anymore (manufacturing defects covered for 5 years), quite often they repair damages that shouldn't be covered free of charge. Also, there's a good chance that you'll find a Samsonite dealer within 50 miles of your current location, and their products can be sent over to warranty through any of their dealers.
Shop Samsonite on Amazon
11. Delsey (100-300$)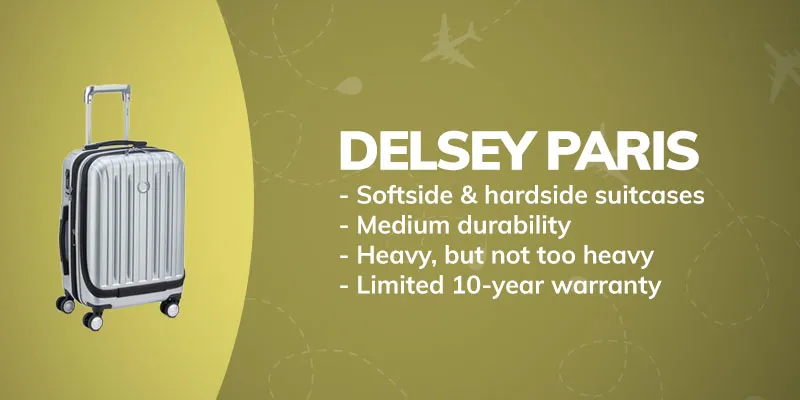 Delsey is another really popular luggage manufacturer, similar to Samsonite. They sell suitcases in the medium and high price range, and similar to Samsonite, we think that their premium models over 250$ are overpriced. Their premium suitcases and made from similar materials and are pretty similar in terms of durability, only look a bit more luxurious.
Delsey's suitcases in the medium price range (100-200$) are somewhat durable and they should last anywhere between 5-10 years. They come with a 5 or a 10-year warranty, which covers manufacturing defects.
Shop Delsey on Amazon
Frequently Asked Questions
What makes a suitcase durable?
First of all, the frame of the suitcase should be made from durable materials, such as aluminum, polycarbonate, or nylon. Otherwise, hardside suitcases may crack too easily and fabric ones may get tears. For fabric suitcases, it's also important that the seams and all the stitching look and feel sturdy enough.
The next most important thing to watch out for is the wheels. 4 Spinner wheels will always be less durable than 2 rolling inline wheels because spinner wheels usually "stick out" from the main frame, which makes them very easy to pop off. Another thing is the wheels themselves – tiny, plastic ones will be less durable than larger, beefier ones with rubber.
Another important thing is to get a suitcase with sturdy retractable and side handles. The retractable handle should be made from aluminum, feel sturdy, and shouldn't wobble. The side handles shouldn't "stick out" from the main frame too much, and they should be made from metal or sturdy plastics.
And lastly, the suitcase should come with durable zippers. Preferably, they should be made by YKK, as it's the most durable zipper brand, although SBS is also somewhat durable. The zippers should feel sturdy, have large enough zipper heads, and they should unzip very easily.
What's the most durable material for hardside luggage?
For hardside luggage, the most durable material is definitely aluminum. However, aluminum is very expensive and pretty heavy, so most hardside suitcases are made from various plastics instead. Polycarbonate is the most durable plastic used in luggage. In real life, it doesn't feel as sturdy because it's very flexible and lightweight, but it's more durable than others because it's more resistant to cracks.
What's the most durable material for softside luggage?
For softside luggage, the most durable materials are genuine leather and canvas. That said, because these materials are very heavy and expensive, they're mostly used only in duffel bags and backpacks. For suitcases, usually, Nylon, Polyester, and Oxford fabrics are used instead. Ballistic Nylon and Cordura Nylon is usually the most durable fabric for lightweight suitcases.
What are the least durable luggage brands?
Usually, all the outsourced, no-label brands are the least durable. If you're shopping on Amazon – Mia Toro, Rockland, and Lucas are among the least durable ones. No-brand suitcases sold in fashion stores, Walmart, and other large shopping centers are also usually pretty bad.
Another thing worth mentioning is that a lot of luxury brands, such as Guess and Louis Vuitton aren't really that durable either – they're definitely more durable than no-brand alternatives, but for the price that they're selling at, they aren't worth it.
Final Words
If you're shopping for a durable suitcase, we'd recommend staying away from all the luxury brands and going with something practical, and down-to-earth instead. The most durable luggage brands include Pelican, Briggs & Riley, Tumi, Rimowa (although very overpriced), Osprey, Thule, Travelpro, Away, Eagle Creek, Samsonite, and Delsey.