The Tumi Latitude 22-inch carry-on is its best-selling hardside suitcase. It's packed with many useful features, it's lightweight yet durable, and, best of all, it isn't too expensive, at least by Tumi's standards.
In this Tumi Latitude 22-inch carry-on review, we'll find out how good the bag truly is. We'll do this by looking at all aspects of the suitcase, including its dimensions, durability, and value, as well as comparing it to similarly-priced carry-ons from brands like Travelpro and Briggs & Riley.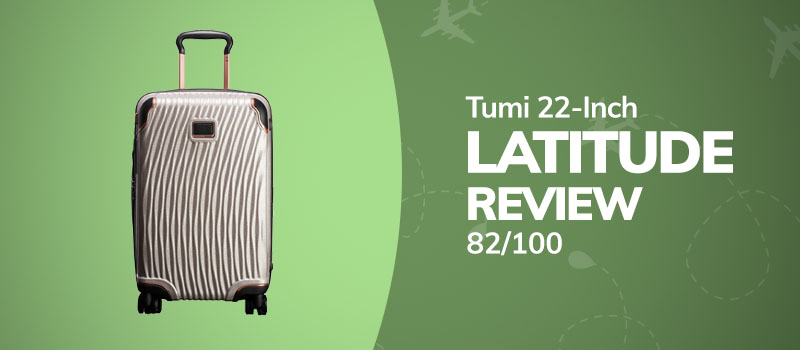 The Good
Lightweight
Smooth-rolling wheels
Plenty of features
Elegant design
The Bad
Some customers reported durability issues with wheels
Overpriced
Not the greatest warranty terms
Quick Take
The Tumi Latitude 22-inch carry-on is fairly lightweight for a hardside suitcase, and it's beautifully designed. It comes with many useful features, and its wheels roll very smoothly. However, the carry-on is slightly overpriced, and its warranty terms aren't the best for its price. Also, the wheels aren't the best quality-wise, despite rolling smoothly.
Overall, we think that the Latitude carry-on is an excellent option if you manage to find it on sale. Otherwise, a better option would be to get the Briggs & Riley Sympatico hardside carry-on, which is better in many aspects.
Full Review
Dimensions & Weight (9/10)
The Latitude 22-inch carry-on measures 22 x 14 x 9 inches (56 x 35.5 x 23 cm), which is within the US carry-on restrictions. You also shouldn't have problems using it as a carry-on on European flights, which tend to be a bit stricter with their restrictions. It's nice to see that the advertised size of 22 inches is the actual height of the bag; many brands use the case's measurements without including wheels and handles.
The carry-on weighs 6.3 lbs (2.86 kg), and most customers praised it for being very lightweight. According to our research, the bag is much lighter than the average hardside carry-on (7.11 lbs), and it's also marginally lighter than suitcases made from the same plastic composite (6.46 lbs). We think that you won't have an issue with the strictest European weight restrictions, which are between 7-8 kg (15.5 – 17.5 lbs).
The internal packing space of the Latitude isn't the best. According to some customers, the suitcase can only fit 3-4 days of clothing. You can probably stretch that to 1-2 weeks if you're a minimalist packer. Some customers also complained that the new version of Latitude offers less packing space compared to its previous models, and some were disappointed that the suitcase isn't expandable anymore.
Read Next: TUMI Alpha 3 22-Inch Carry-On Review
Materials & Water-Resistance (13/15)
The Latitude carry-on is made from Tumi's self-reinforced polypropylene. Unlike regular polypropylene, Tumi uses polypropylene-woven fabric layers, which makes it stronger and more resistant to abrasions. This makes it almost as durable as polycarbonate (which is the most durable plastic used in luggage) while keeping the overall weight lower.
The carry-on's water resistance is great, as is true with every hardside case. Since these are made from plastic, water can't penetrate through the material. However, that doesn't make the bag waterproof since water can slip through the suitcase's seams and zippers in heavy rain. Still, your belongings won't get wet in a drizzle or even moderate rain.
Read Next: TUMI 19 Degree 22-Inch Carry-On Review
Durability (17/20)
Tumi's suitcases are usually very durable, and the Latitude is no exception. Of course, it won't be as durable as the Tumi 19-degree Aluminum carry-on because it's built from plastic instead of Aluminum. However, it's still durable enough for most people if taken care after. Polypropylene is a very flexible material, so it's very unlikely to develop cracks.
As for the other aspects of the carry-on, the reviews weren't as great. The main complaint was that the wheels aren't durable, with some customers reporting that they broke right after the 1-year mark. That said, all handles on the Latitude are sturdy, and we couldn't find any issues with them. This is rare for any suitcase since the handles are one of the first parts to break or become flimsy.
The zippers used on the Latitude carry-on are very durable. Tumi utilizes a unique patent for the zippers so that when they get caught somewhere, only the zipper pull will break, leaving the zipper head unharmed. On top of that, the inner lining is also strong, so you shouldn't have any issues with it for many years.
Overall, the carry-on is perfect if we ignore its wheels. However, we can't give it a perfect 20/20 because of the few complaints about the spinners.
Moveability (14/15)
The Tumi Latitude carry-on comes with four double spinner wheels, which roll very smoothly. These are the best option for business travelers since spinner wheels are effortless to roll on smooth surfaces, like pavements or airport aisles and tarmac roads. Considering that this carry-on is suited for business travel, Tumi did a great job selecting the spinner wheels, despite not being the most durable ones.
Speaking of which, the wheels are made of plastic. Rubber spinner wheels are usually easier to roll and more silent, but plastic ones are still better than inline wheels in most cases. Inline skate wheels are often better options for travelers who wander off the central city they're visiting and end up on cobblestone or dirt roads. However, we don't expect any business travelers to find themselves on such streets, and luggage with four spinner wheels is much easier to move around on smooth surfaces.
The carry-on also comes with a few handles, including one on the top and the side, as well as a retractable one. Unfortunately, there's no bottom handle; however, the suitcase is lightweight, so you'll probably not have an issue lifting it to the overhead bin. The retractable handle locks at three different heights, so you should have no problem rolling the bag around, whether you're tall or short.
Additional Features (9/10)
The Latitude 22-inch carry-on comes with some extra features. We're happy that Tumi included these since most similarly-priced suitcases have them.
The bag comes with a TSA lock. This is great whether you're flying domestically or internationally because the TSA can check your suitcase at any point. They're allowed to rip the zippers, which would destroy your bag, something that they don't have to do when a TSA-approved lock is present.
The suitcase also has plenty of internal packing features. There are two packing components alongside a couple of zip pockets and a hanger bracket. On top of that, there's a set of tie-down straps which work marvelously at keeping your belongings in place. However, keep in mind that some customers complained about the lack of internal packing space.
The last feature that stands out is the Tumi Tracer that comes with every Tumi bag. With this tracer, Tumi can help you find items you lost, or even help you find your suitcase, as long as you've registered it.
Design (8/10)
While most business suitcases are pretty dull, we liked the Latitude carry-on's design because it balances elegance and funkiness. Apart from the navy color and black color, you can find a silver variation on Tumi's website. We loved that one!
The best thing about the bag's design is that the pattern you see isn't a print – it's actually 3D! This might seem like it'd fit a cheap carry-on more, but we think that it gives an artistic touch to a classy and elegant bag.
If the Tumi Latitude carry-on had more color variations, it would have been a 10/10.
Warranty (8/10)
The Tumi Latitude carry-on comes with Tumi's 5-year warranty. For the first year, the warranty will cover everything apart from damage that Tumi deems as "abuse" from the owner of the suitcase. These terms are similar to the no-matter-what warranties offered by brands like Travelpro and Briggs & Riley. Tumi will also cover all shipping costs from and to their shipping centers. The warranty is pretty limited for the next four years; it only covers manufacturing defects and normal wear and tear.
The main issue with the warranty is that you'll need to have proof of purchase to make a warranty claim. So, you'll need to keep the receipt and register the product online to ensure that your claim is valid. The brand will also provide discounted repairs after the 5-year period passes.
While the warranty terms are great, other premium luggage brands like Briggs & Riley offer unconditional lifetime warranties for luggage that costs much cheaper. Tumi provides the same terms for only one year, and then it offers a limited one that you can get with almost any luggage brand.
Value (4/10)
Even though the Latitude carry-on has many great aspects, it's overpriced. This is true for most Tumi suitcases since the brand advertises them as a commodity rather than a functional piece of luggage.
Unlike other Tumi bags, the Latitude offers more value because you can usually find it on sale. Once you consider its features, durability, and customer reviews, the carry-on is excellent; it just costs a bit more than bags that offer the same features, even when it's on sale.
How Does the Tumi Latitude Compare to Similar Suitcases?
Two Tumi suitcases are similar to the Latitude – the Tumi 19 Degree carry-on and the Tumi Tegra Lite Max carry-on.
The Latitude is the lightest of the three, and it's also the least durable one. That's because the Tegra Lite Max is made from Tegris (a stronger polypropylene composite than SRPP), and the 19 Degree is made from polycarbonate or aluminum (depending on which model you get). However, we think that the Latitude is the best-looking out of the three Tumi bags.
All three suitcases have the same features, even though the Tegra Lite Max has an extra pocket on the front. Considering that the bags are priced similarly, it's safe to say that the Latitude is slightly better than the other two. However, if you want more durability, you can opt for the 19 Degree.
Another couple of similar suitcases are the Briggs & Riley Sympatico carry-on and the Travelpro Platinum Elite carry-on.
The Sympatico offers the best value. Though it is heavier than the Platinum Elite and the Latitude, it's made from durable polycarbonate, and it comes with a lifetime warranty. It's also very well-reviewed – we couldn't find any complaints about any aspect of the bag.
On the other hand, the Platinum Elite is an excellent choice if your budget is tight. Despite being made from polycarbonate, the bag is light, while it also has the most features, including USB ports and excellent internal packing options. On top of that, it comes with a limited lifetime warranty, and it costs much less than the Sympatico and the Latitude.
That said, if you can find the Latitude carry-on on sale, it's a great value. However, we think that the Platinum Elite is the clear winner among all four bags we mentioned.
Our Verdict
The Tumi Latitude 22-inch carry-on is a stylish yet elegant choice for business travelers and should last for many trips. It has several features which make it stand out, and it's very flexible compared to other carry-ons. However, more affordable alternatives are available, like the Travelpro Platinum Elite, which is even better than the Latitude.
Still, the Latitude carry-on is one of Tumi's cheapest suitcases, and it will last you many years.