The Samsonite Centric 24-inch Spinner isn't the cheapest bag from Samsonite but it's a perfect fit for the traveler who has outgrown his carry-on but doesn't need to maximize their carrying capacity with a bag that brushes up against the upper limit of 62 linear inches.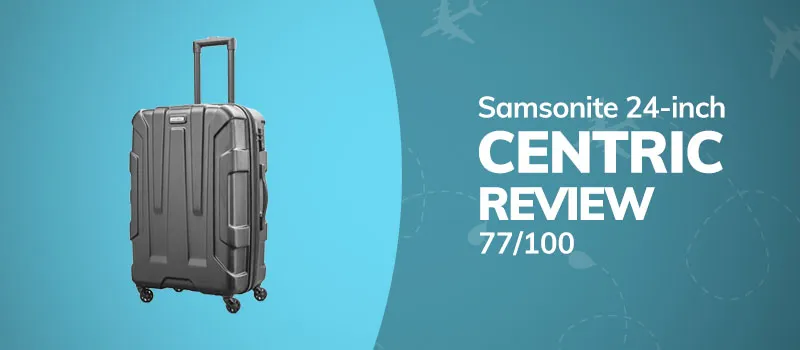 The Good
Hardshell with a scratch-resistant texturing

Modern design, available in a variety of colors

Samsonite 10-year Limited Warranty

TSA-Locks
The Bad
Single spinner wheels more prone to snags

Weak cross-strap and mesh divider

Priced higher than most Samsonite luggage
Quick Take
This is a great bag from the biggest brand in the luggage world. We found the inner dividers to be a bit divisive but the overall package is easy to recommend. Our consumer score for this bag was particularly high but unfortunately so is the price tag on this bag. High relative to most Samsonite bags in this size-class at least. Still affordable for most people but perhaps not priced low enough to be an impulse buy. Luckily you're reading this review so you won't have to make an impulse decision today.
Full Review
Dimensions & Weight
This Samsonite Centric measures at 26.5″ × 17.75″ × 11″ for a total linear size of 55.2″ including wheels. This places the bag well under the standard maximum of 62 linear inches. The interior packing dimensions come in at a slightly diminished 24″ × 16.5″ × 11″ and the empty bag weighs a moderate 9lbs.
If you can't quite commit to the carry-on lifestyle of the weekend travelers and those who like to travel light and unencumbered then a 24 inch checked bag is a good compromise. Those 2 extra inches of length add to a lot more interior volume and it gives you one less thing to forget on the plane.
In terms of weight, this bag is slightly above average for a hardside suitcase of this size. That shouldn't be a worry as it's going to be exceptionally hard to hit the 50lb weight limit with a bag this size. Even if you are smuggling gold ingots or bring 3 toiletry bags stuffed with 7 different shampoos and conditioners.
Bag weight becomes a more important factor in the largest bags and with carry-ons as both groups often bump up against airline weight limits when fully packed. At this size, a bit of added weight for reinforced durability is a worthwhile trade-off.
Materials & Water-Resistance
Polycarbonate has all the water resistance, it's half of the reason people choose a hard side suitcase. The other reason being how much of a beating, kicking, and stabbing it can withstand while still protecting your belongings.
If you travel with camera equipment or anything delicate that is too large to fit in a carry on then a hard-side polycarbonate suitcase like this is a no-brainer. And even if you just travel with 4 pairs of pants and a dozen shirts a hard-shell suitcase looks nice and ages well.
We particularly like the tweed-like weave used on the exterior surface of this suitcase, and many others, we find it holds up very well to being tossed and dragged along conveyor belts.
Durability
Durability is a strong point for almost all polycarbonate suitcases. The weak points with all hardshell suitcases lie in the handles, seams, and wheels. Our bag maneuvered well and we had no issues with our wheels but there have been reports of poor maneuverability with this bag which may come down to quality control in regards to the wheel tolerances.
It is not something to worry about but something you should be aware of so you can properly check your bag when it arrives for any issues.
The overall rigidity of the bag when empty was a bit lower than we like to see with hard-side luggage. Particularly if you plan on placing another bag on top of this one while you wheel it through the airport, as it has a fair bit of flex. This might be a problem if you pack light and plan to place a heavy backpack on top or slot one of Samsonite's sleeved bags overtop the handle, such as the Samsonite Underseater bag we reviewed last week.
Looking at our CJ consumer scoring criteria we see a high score of 80 out of 100. This score reflects hand-vetted owner sentiment toward this bag with a weighted emphasis on durability looking at reported incidents of failure.
We don't see a lot of Samsonite luggage, or any luggage for that matter at an 80 or higher so this is a solid showing and it might help justify the extra cost of this bag compared with others in the Samsonite's line.
Worth noting that these scores are not for the Centric line as a whole rather they are specific to this particular bag size so the total pool of reviews is not in the thousands but the low hundreds. We still feel that is a statistically significant number of reviews and we are happy to recommend this bag.
But with all checked luggage it's only as durable as physics allows and if you get unlucky with a batch of rough baggage handlers this bag is just about as likely to fail as a more budget offering.
Read Next: Samsonite Freeform 21-Inch Carry On Luggage Review
Moveability
As we mentioned in the Durability section there were a few reputable reports of wheel issues. We can't speak to that as in our case our bag functioned normally for a set of normal spinner wheels.
At this price, however, we would prefer to see dual-spinner wheels. Eight wheels are better than four in terms of durability and maneuverability. Having eight points of contact with the floor makes it less likely that your bag will get stuck in a rut or a crack and thus less likely you will break a wheel.
Additionally, the wheels on this bag extend from the rectangular body of the bag, this has obvious disadvantages in terms of durability and the overall linear dimensions of your bag but it's fairly common. Fewer bags used recessed wheels as it's more difficult to manufacture, it makes the interior packing dimensions awkward and decreases your overall clearance.
The clearance issue isn't a factor for this bag in terms of airline restrictions as this medium bag is on the smaller end of checked luggage. Overall the wheels are fine, we haven't seen high reports of broken wheels, the reports we mentioned earlier concern only the maneuverability of the wheels. Owing to their size, they are quite small for a checked bag, they often get snagged and dragged.
Additional Features
The Centric has a balanced set of features, it's expandable which means there is a second zipper that runs the length of the bag that when unzipped will give you a precious inch or two to squeeze in a few more things. Something you might actually need with a bag this size.
We think a hard side suitcase with an expansion zipper is better than a cloth suitcase for most travelers. Albeit true that cloth bags still retain the helpful exterior zipped pockets that this suitcase, and most every hard-side suitcase, sadly lacks. Not a deal-breaker though as you shouldn't have to store a boarding pass or kindle in your checked luggage anyway.
This bag also comes with a 3-combination TSA lock which is great for making you feel slightly safer about traveling with your favorite watch or even a couple of gold bars like we mentioned earlier.
The interior sorting is sparse you get one large mesh pocket on the bag divider. It does allow you to see through to your clothes on the other size which might be helpful when you need to dig for your favorite shirt in a hurry.
The spinner wheels and retractable handle are fine if a bit basic at this price point.
Design
This bag comes in far too many colors, a hallmark of any samsonite bag. You have 10-colors to choose from but you will probably just choose black anyway.
We wanted to highlight the interior design and nit-pick a bit. Almost all hardshell bags open up 180 degrees in that familiar clamshell design, as such they almost all have a clothing strap on one side and a cloth divider/pocket on the other. Samsonite opted to make the divider/pocket on this bag out of mesh and while it looks cool it seems rather weak. If this were a bigger bag it would be a larger concern but we still would have preferred a more standard nylon divider and pocket.
Similarly, the cloth cross-strap on the opposite side is quite insubstantial, thin, and weak. I could see either of them being a problem in the future as points of failure but mostly I am just annoyed by how poorly the thin cross-strap keeps things in place. Others might prefer this mesh divider but for me, it seems like a design misstep.
Read Next: Samsonite Solyte DLX 20-Inch Carry On Luggage Review
Warranty
The Samsonite Centric is backed by Samsonite's reasonable 10 Year Limited Warranty. It is worth noting that this warranty does not cover accidental damage or normal wear and tear. This applies even if you aren't the person responsible for the accidental damage, this won't cover you in the event a baggage handler decides to practice his Olympic shot put with your suitcase.
Samsonite's warranty is also not user transferable, it applies only to the original purchaser or gift recipient and specifically covers a replacement or repair in the event of, "manufacturing defects in material and workmanship".
To make a warranty claim Samsonite requires that you provide your receipt and you will be responsible for the cost of shipping to their repair center. Samsonite will cover the return shipping only if the damage is deemed to be covered under warranty. If after inspection they deny your claim you will be stuck paying for the repair out of pocket or paying for them to ship back your unrepaired luggage.
It's not the most comprehensive coverage in the business and we have seen an increase in reports of denied warranty claims in recent years but Samsonite still maintains a solid reputation even if it's getting stingier with repairs.
Samsonite maintains high consumer report scores for customer satisfaction for a reason. When evaluating company warranties it's important to look at more than what is strictly covered on paper. A comprehensive warranty that you have to jump through hoops and chase down support to exercise is not a great warranty.
Customer support is an integral part of any warranty and that requires support agents with fair judgment and the leeway needed to solve issues within reason. Samsonite has solid support and even when your issue falls outside the purview of their stated warranty coverage their customer service is worth getting in touch with.
Value
This is not an inexpensive piece of luggage. Many of the samsonite bags we look at lean toward the budget end of the spectrum but this bag lands somewhere in the middle and it makes it tough to evaluate this bag.
There are certainly cheaper bags, even from samsonite, that have virtually the same feature sets and dimensions. And on the upper end of things, there are bags that come with a few notable upgrades, double-spinner wheels, more interior sorting, and more substantial dividers. It comes down to personal priorities in the end.
Everyone has a budget and if this fits your budget, this is a good bag. But you might be happier spending half as much on something like the 24-inch Samsonite Omni. Alternatively, if you have room to spend, you might consider spending 30-40% more for a more premium bag with a few additional bells and whistles. In this price range, you could look at something like the Sympatico Hardside Spinner from Briggs & Riley, you can read our full brand evaluation on Briggs & Riley here.
Value in terms of performance per dollar is a tough thing to quantify when it comes to luggage. If it is simply a matter of function; does it get your belonging from here to there, then the cheapest, lightest bag that meets your size requirements wins.
When you start to consider lifespan, convenience, security, and even aesthetics it becomes a tougher equation to solve universally as everyone's priorities are different. We think this bag is decently priced for its feature set, it looks nice, and its twill surface weave is great for combating scratches but it's not worth stretching your budget for if you are considering a cheaper bag from samsonite or another respected brand.
Our Verdict
The Samsonite Centric is a good piece of baggage. This suitcase is well-suited to anyone who wants to protect their gear and doesn't want to lift an overly heavy bag into the trunk and upstairs.
The Clever Journey Consumer Score for this bag bolsters our confidence in recommending this bag to anyone who has a luggage budget that can afford it.
If the mesh pocket doesn't bother you, and you don't require a lot of interior sorting pockets and tools then this bag will serve you just fine and is a massive upgrade over the kind of luggage most people are still using from 8-10 years ago.
This post is also available in:

English