Are you looking for stylish luggage without breaking the bank? Mia Toro ITALY offers just that. A large variety of mostly hardside luggage, with incredible designs at a reasonable price. However, you might be wondering whether Mia Toro ITALY is worth your money.
Well, then you're in the right place.
In this Mia Toro ITALY luggage review, we'll find out how durable they are, what features they offer, what their warranty is like, and compare them to similar alternatives. After this, you'll find out if they're a good choice or not. We'll also compare Mia Toro to other similar brands, like Ricardo Beverly Hills and Delsey.
On Clever Journey's Best Luggage Brands, Mia Toro ITALY gained 66 points. This places Mia Toro at 15th place amongst all the brands we've reviewed.
Here you can see how we determined the 66 points. We'll go in-depth into each category down below.
The Good
Unique & Vibrant Designs: This is where Mia Toro ITALY shines. The brand offers some of the best luggage designs we've ever seen. Whether you opt for the formal "Industrial Textures" designs or the artistic "Designer Art" designs, we're sure that you'll be surprised by their beauty. There's even one design that resembles a wood carving of an elephant. Yes, an elephant… on your suitcase!
Luxury Feel: Mia Toro is an Italian brand, so luxury is in its DNA. Every single suitcase from Mia Toro is designed in a way to look as high-end and luxurious as possible. So, when it comes to design, Mia Toro's luggage will look like it was made for royalty.
Retractable Wheels: Mia Toro ITALY has a couple of models that feature retractable wheels. This is a pretty cool feature that we didn't expect to find on Mia Toro's luggage.
The Bad
Bad Durability: There are numerous counts where customers have had their Mia Toro luggage destroyed from the first trip. From simple scratches to broken wheels and zippers, Mia Toro's luggage doesn't last long. However, there are some Mia Toro suitcases that have only received 5-star reviews, so it's a hit-or-miss situation.
Lack Of Features: When luggage looks so nice on the outside, one would expect that to translate to the inside. Mia Toro's suitcases lack the extravagant features that you should expect from them, providing only the industry standards. We analyze these features more in-depth on the "Features" part of our Full Review of Mia Toro below.
Poor Reviews: A lot of people complained that the product descriptions are incorrect, the dimensions are too big, and that the bags seem to be poorly made. Some customers also mentioned that they received a single suitcase when the product was advertised as a luggage set.
Product Availability: One of the biggest flaws that we found about Mia Toro ITALY is that its luggage is rarely available. An entire collection could be on sale for one week and then disappear for months. So, if you want to buy a specific Mia Toro suitcase, you'll have to wait for it to be restocked… and then you'll need to be quick enough to purchase it before it goes out of stock again.
A support team that's hard to get by: Mia Toro's support team is not great. Many customers have said that they are far from helpful and they take a long time to answer.
The Verdict
In the design category, Mia Toro ITALY gained 15 out of 15 points, which is the best result of all the brands that we've reviewed. There's no doubt that Mia Toro's suitcases are some of the most beautiful luggage out there.
However, that's the only great thing about Mia Toro. Mia Toro's luggage comes with a fair share of flaws.
Their parent company is associated with Planet Traveler – a brand that raised almost a million dollars on Kickstarter and failed to deliver. Now the backers are looking to sue the company and asking for refunds. But, that's only one small part of their controversies.
The vast majority of their suitcases are poorly reviewed. A lot of reviews say that their suitcases are fragile and break on the first or second trip. Others have said that they received entirely different suitcases than the ones they ordered. Mia Toro's warranty is also really limited, compared to what other similarly-priced brands offer.
In the medium class, we think that there are a lot of better choices available for identical prices, like Chester, Travelpro, Samsonite, Delsey, Traveler's Choice, or Ricardo Beverly Hills. While these won't have the extravagant designs of Mia Toro's suitcases, we can safely say that if you get a suitcase like Samsonite Underseat Spinner, Chester Minima Carry-On, or Travelpro Maxlite 5 19-Inch International carry-on you won't need to fear them breaking after the first trip.
Full Review
Key Facts About Mia Toro ITALY
Mia Toro ITALY comes from the land of fashion and style – Italy. In Italian "Mia Toro" means "My bull," and stands for strength, beauty, and excitement. So, it seems that the owners of Mia Toro had high hopes for their brand from the get-go. Mia Toro ITALY has been around for a few years, with the people behind the brand being in the luggage manufacturing industry for over 30 years.
Mia Toro is a child company under the Hontus Milano Group. They also have several other lesser-known luxury travel accessory brands, with each brand focusing on a slightly different segment. In total, they have around five travel product brands (With Mia Toro being the most popular one).
What's alarming is that Hontus Milano Group also owns the Planet Traveler brand. Essentially, Planet Traveler raised over 900,000$ in a Kickstarter campaign, promising to make smart luggage, but failed to deliver. It's been over six years since the original backing, and, based on the comments, they're yet to be delivered. People are unhappy and want to sue Planet Traveler for fraud, and rightfully so, since the company hasn't given an update on the project for nearly four years.
Going back to Mia Toro, the brand has been off the radar for a couple of years. Its social media accounts rarely post anymore, with its Instagram account being inactive since 2019, while its Facebook account hasn't posted anything since 2017. So, it seems like the brand has given up on its marketing, a major red flag for any company.
Reviews (19/30)
As a brand, Mia Toro is mostly known for its stunning designs. Nobody can doubt that Mia Toro's designers have done an amazing job at making the most beautiful designs on the market. Many customers have said that the suitcases that they bought were even more stunning in real life, with many of them purchasing Mia Toro's luggage as gifts for their friends or relatives.
However, that's where Mia Toro's expertise stops. Great designs are a nice feature to have, but there's no point in buying a suitcase if it doesn't last. We scoured through reviews online and we found out that many customers have not been pleased by Mia Toro's suitcases.
Here are the most common issues that people complained about:
Some people had issues with the spinner wheels (the rubber breaks off if used on rocky terrains.)
Some glossier models are not that glossy in real life.
Their support is hard to get by.
A lot of people said that their suitcases are extremely fragile (they break after one or two trips).
Some customers received different products (single pieces instead of three-piece sets).
The reason that we gave a score of 19/30 on Mia Toro's reviews is that there are a few suitcases that have no negative reviews. Most of Mia Toro's suitcases received an average of 2-3 stars, with the most popular models receiving an average rating of over four stars from dozens of people. But, there were a few suitcases that only had 1-star or 2-star reviews.
Quality (10/20)
Most of Mia Toro's new customers should expect the suitcases to be made in Italy. After all, the brand is named Mia Toro ITALY. Unfortunately, that's not the case, since Mia Toro's luggage is designed in Italy, but solely made in China just like almost everything nowadays.
Most luggage brands are open about what material their suitcases are made from and tell the exact composite of the frame – polycarbonate, polypropylene, or ABS. This isn't the case with Mia Toro ITALY, with it just stating that they're made from a 'lightweight armor-flex composite,' which doesn't tell much. Out of all three, ABS is the least durable one and the cheapest, so we wouldn't be surprised if they're made from that.
Due to the availability problem with Mia Toro's luggage, we didn't have the chance to test out any of its suitcases, so we base their quality on what customers have said. And, as the reviews have stated, Mia Toro is far from a reliable luggage brand. Many customers have stated that their suitcases were ruined in numerous ways after the first flight. From something simple like the coating coming off or the zippers being broken to wheels breaking off and cracks being evident on the hard outside surface of the suitcases.
But then again, we also found quite a few people who were happy with the reliability. They've used their bags for several years now with no issues.
In the same price range, you can get a Travelpro Platinum Elite which is virtually indestructible and backed up by a lifetime warranty. So based on everything that we could find, we couldn't give them more than 10 stars in quality.
Features (10/15)
Mia Toro considers itself a luxury luggage brand. That's true… at least on the outside. However, we couldn't find that luxurious feel when it came to the features that Mia Toro's luggage offers.
Spinner Wheels on All Suitcases and Retractable Wheels on Certain Models
Nearly all of Mia Toro's suitcases are hardside and come with spinner wheels. This may not seem like anything super-necessary, but we suggest that you always purchase luggage with spinner wheels because they make the bag much easier to move around. There are also some specific models like the Mia Toro ITALY Ruota which feature retractable wheels, something that's usually found in higher-end models.
Some of their bags come with double spinner wheels (eight in total) and some with regular ones (four in total.) We noticed that the double spinner wheels seem to be more durable. While a lot of people complained about the quality of their regular spinner wheels, almost no one complained about the double wheels.
Here's a video that shows their retractable wheels in action:
TSA-Approved Locks on Most Suitcases
Here's another feature that's super important: TSA-approved locks. What these locks do is allow the TSA agents to get inside your bag quickly. If you use regular locks, the TSA agents are allowed to break the lock or zippers to inspect the contents of your suitcase.
Almost all of the Mia Toro suitcases have this option included. However, when we look at a lot of the reviews on Amazon, it looks like their product descriptions are sometimes wrong. Some product descriptions mention that the bag comes with TSA locks when, in reality, it doesn't.
Expandable Zippers
Some models come with an expandable zipper that allows the suitcase to expand in width by two inches. This provides an additional 25% of packing space that could be useful if you're low on space. Note, that this feature isn't included in all of their cases, so make sure to read through the specs before buying.
Keep in mind that Mia Toro isn't the best when it comes to zippers, as they are prone to break after the first few trips.
Other Useful Features
Other notable features include ergonomic grip handles, a special compartment for your luggage tags (on the back of the briefcase), handles on top and sides, compression straps, and a zippered mesh pocket inside. But, that's it. You'll be able to find the exact same features and even more by most brands on this price point, like Ricardo Beverly Hills and Samsonite.
Design (15/15)
In the design category, Mia Toro has done an exceptional job. We'd go so far and say that they're the best-looking suitcases in the market. We've already said a lot about their designs, but we'll take an even deeper look here.
We like how they've combined the best of both worlds. For those who like something more practical, the "Industrial Textures" collection is a good fit. And for those who are looking for something more vibrant, the "Designer Art" collection is even better.
Industrial Textures Collection
The idea behind the "Industrial Textures" collection is to create hardside suitcases from unique, never-before-used materials. Some noticeable improvements in this collection include armored corners, sturdier handles, and scratch-resistant finishes.
Mia Toro states that they're made to withstand the harshest conditions. However, we'd say that it's more of a marketing trick because these improvements are more visual than functional. Although, yes, there are some useful improvements, the "Designer Art" collection performs just as well when it comes to endurance, as many customers have said. It's more a matter of which style you prefer: industrial or artistic.
Here are some interesting textures that this collection offers:
Abrased Steel
Granite
Armor-flex Composite
Aluminum
Acid-washed
Chainmail
Carbon Fiber
Designer Art Collection
The most recent collection of Mia Toro offers colorful and creative patterns, and this is what really sets their luggage apart from the competition. They're made in collaboration with world-renowned designers, with the simple goal of combining art with science to create luggage that appeals to the newer generations.
What we like the most about Mia Toro is that they're finally doing something unique; they're bringing back the beauty and emotion to travel accessories, as opposed to the dull one-colored fabric suitcases. But, those stunning designs come at the expense of the durability and the quality that similarly-priced brands, like Samsonite and Delsey, offer.
Warranty (5/10)
Mia Toro has a single 10-year warranty for all of their suitcases. This warranty covers manufacturing and workmanship defects, but it doesn't cover any airline damage, transportation damage, misuse, and normal wear and tear. So, for instance, if a wheel would break off while the bag is checked in, that wouldn't be covered by the warranty.
Mia Toro only covers domestic shipping costs for returning the bag back to you. If their bags have to be sent to the warranty, the customer has to pay for shipping to the repair center, and, if shipped internationally, the customer will need to pay for the return shipping costs as well.
If you need to contact them about warranty claims, it's best to call their number or contact them through email. However, many customers have stated that you'll likely not be able to communicate with someone on their support team, and even if you manage to do so, Mia Toro's support doesn't have the best reputation when it comes to being helpful.
This is why we scored Mia Toro's warranty with 5 points.
Price (7/10)
Judging by the first looks, you may think that Mia Toro is an expensive Italian luxury brand. Unfortunately, this isn't the case.
Actually, they use a pretty popular marketing trick to jack up their value. This has been famously done for numerous years by Invicta, a watch company that customers "love to hate". As for Mia Toro, the stock value of its luggage is pretty high ($140 – $360 for a single carry-on and up to $570 for a set), but you can get them on sale pretty often. And when we say a sale, we mean a full warehouse-clearance type of sale of 50%-80% off. Usually, you can get a single carry-on on a sale for about $70-$130, and a set for $200 – $300.
For a luxury suitcase, these prices are pretty good. However, if you take into account durability, warranty, and reliability, Chester, Travelpro, Samsonite, or Delsey are much better choices in the middle class.
Shop now: Travelpro Maxlite 5 carry-on on Amazon
How Does Mia Toro ITALY Compare to Other Luggage Brands?
When directly comparing Mia Toro ITALY to other brands at the same price point, we weren't surprised. When it comes to medium-classed luggage, Mia Toro is by far the worst, with it scoring a lot fewer points than its competitors. In fact, it is nearly the worst brand we've reviewed, barely surpassing Rockland… a brand that sells luggage at half the price of Mia Toro.
Speaking of Rockland, it bears a fair share of similarities with Mia Toro. Both of these brands are known for having beautiful designs and being well-priced, which is especially true when it comes to Rockland's luggage. However, Mia Toro and Rockland are heavily lacking when it comes to quality, warranty, and durability.
Going back to the middle-classed luggage, Mia Toro is the worst-reviewed brand, especially when compared to brands like Chester and Travelpro which are praised by travelers. The same can be said about Mia Toro's luggage quality, which is hit-or-miss. And by hit-or-miss, we mean that you'll either get a suitcase that will last for years, just like the suitcases made by Ricardo Beverly Hills, or you'll get a bag that gets destroyed during the first trip.
Mia Toro starts picking up some pace when it comes to its features and its design. Mia Toro's luggage doesn't offer anything special, which isn't what one should expect when buying "luxury suitcases". The same can be said about Mia Toro's warranty, with many similarly-priced brands like Ricardo Beverly Hills and Samsonite offering much better warranties for all of their luggage.
So, overall, you should opt for different luggage brands, such as Travelpro or Delsey, or most other brands on Clever Journey's Best Luggage Brands list.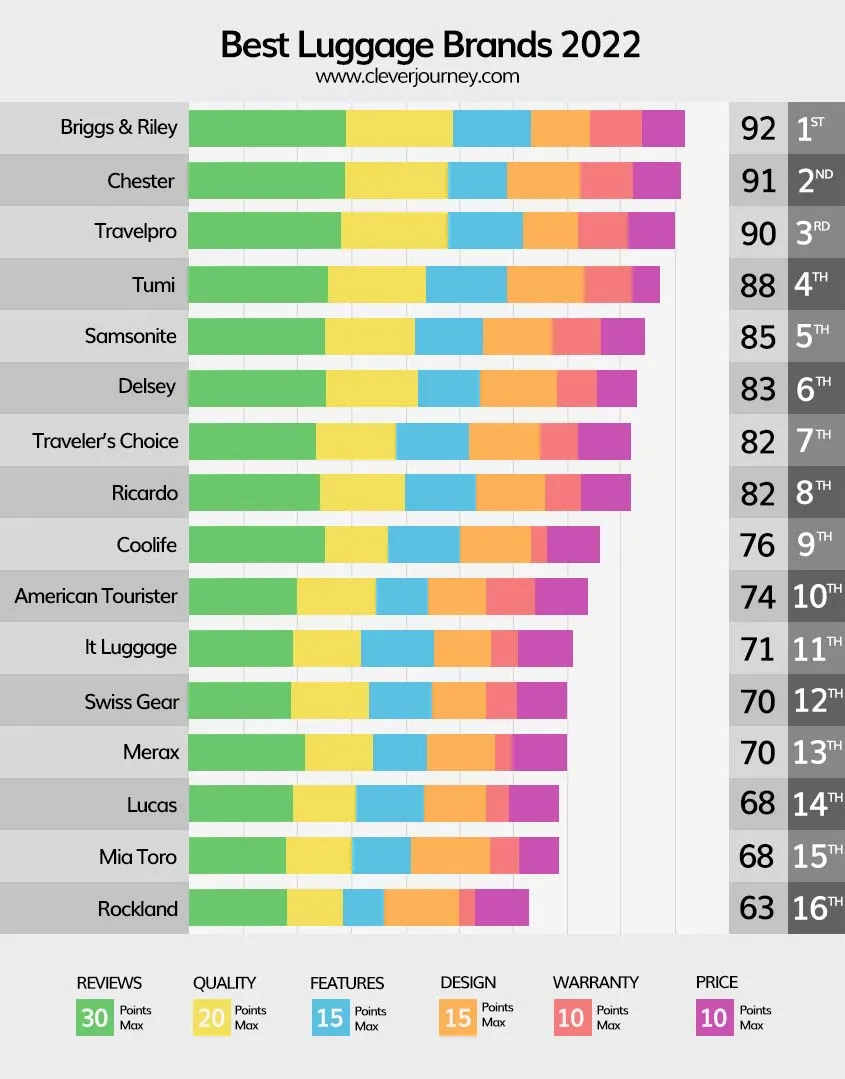 This post is also available in:

English