Although Ricardo Beverly Hills isn't the most popular luggage brand, they make really good luggage. In some aspects, it's even better than similar alternatives from Samsonite, Delsey, or Travelpro. It's a really solid medium-class brand from the US that's definitely worth taking a look at.
In this Ricardo Beverly Hills luggage review, we'll find out if they're worth buying. We'll understand how durable their bags are and what materials they're built from, what features they come with, how good their warranty terms are, and how they compare to other brands in the medium price range.

On Clever Journey's best luggage brands, Ricardo Beverly Hills gained 76 points, and took 2nd place, right after Briggs & Riley (81 points).
Compared to other brands in the medium class, Ricardo actually scored the highest. Travelpro took 3rd place with 75 points, Delsey 5th with 74 points, and Samsonite 6th with 71 points.
You can see how we calculated the 76 points in the graph down below. We calculated the "reviews", "airline compatibility", "weight", and "price" categories by gathering data for the most popular suitcases from 31 different luggage brands. The four remaining ones are based on our own research and opinion. Ricardo scored so high because they did a good job in all categories, not just a few ones.
The Good
Smart Packing Features: Ricardo often includes a lot of useful packing features in their luggage, such as TSA-approved toiletry pouches, wet pockets, and packing cubes.
Excellent Wheels: Their maneuverability is superb, and they can go over any surface smoothly.
Affordable: Ricardo has medium and large check-in models that range from $100-$200. Their carry-ons are even cheaper, with some being priced at less than $100. So, you won't have to splurge too much money on luggage. Although we've classified them as a medium-class brand, they're definitely leaning towards the affordable class.
Well Reviewed: Apart from some models, Ricardo Beverly Hills has near-perfect reviews online. Most first-time buyers end up purchasing more luggage from Ricardo, which lasts for many years.
The Bad
Support issues: Ricardo's support has been criticized in some customer reviews, where people said that their support team is hard to get by and often provides only generic answers.
Zippers: Many customers have said that Ricardo's zippers aren't great. Some complaints stated that the zippers break after 1-2 years of traveling.
Some models aren't that reliable. Although their quality is on the stronger side, it's not perfect. Most of their collections are really durable but some have durability issues. So, before you purchase luggage from Ricardo, glance over the reviews to make sure that it's a popular model with a lot of good reviews.
The Verdict
Ricardo Beverly Hills is a really solid brand in the medium price range, which is worth considering as an alternative to the most popular medium-class brands – Samsonite Travelpro, and Delsey.
In durability, they don't do as good of a job as Samsonite, Travelpro, or Delsey, but they are really close. If you'll be traveling only a few times per year, you can expect their bags to last at least 5-10 years. When used frequently though, they'll break quicker.
They also are a bit heavier than Samsonite and Delsey, but their luggage is cheaper, offers a lot of useful features, and is sized perfectly to fit the carry-on and checked luggage weight restrictions, so you won't need to worry about oversized luggage fees. It's also really well-reviewed and comes with a reliable warranty. The only problem is that not all of their suitcases are equally great. Some are better than others, and we shared the best ones in the table below.
Top-Rated Ricardo Beverly Hills Suitcases
Best Softside: Malibu Bay 3.0

– Editors rating: 4.5
– 22 x 14.5 x 9.5 in (56 x 37 x 24 cm)
– 7.1 lbs (3.2 kg)
– Polyester

SHOP NOW

Best Hardside: Mojave

– Editors rating: 4.6
– 22 x 14.5 x 9.5 in (56 x 37 x 24 cm)
– 7.3 lbs (3.3 kg)
– Polycarbonate

SHOP NOW

Best-Looking: Indio

– Editors rating: 4.6
– 21.5 x 14.75 x 10 in (55 x 37 x 25 cm)
– 7.0 lbs (3.1 kg)
– Polycarbonate

SHOP NOW

Best For Bussiness: Montecito

– Editors rating: 4.6
– 22 x 15.5 x 9.75 in (56 x 39 x 25 cm)
– 6.9 lbs (3.1 kg)
– Polycarbonate

SHOP NOW
Full Review
Key Facts About Ricardo Beverly Hills
Ricardo Beverly Hills was founded in 1978, in Beverly Hills, California. The company rose to prominence because of the wide selection of luggage and travel accessories that it offers. It soon expanded its reach over other brands for different markets. These include Skyway Luggage, Stephanie Johnson, and American Explorer.
As of today, Ricardo Beverly Hills is available in over 40 different countries in various online and retail stores. Although their main focus is luggage, they also make travel accessories; packing cubes, garment sleeves, toiletry pouches, laundry bags, and bags for other purposes.
Based on Ricardo Beverly Hills Inc.'s estimated sales figures, they're nowhere close in revenue to other middle-class luggage brands, like Delsey, Samsonite, or Travelpro.
Quality (15/20)
Ricardo Beverly Hills suitcases are somewhat durable, but they won't withstand heavy frequent travel. If we were to compare Ricardo's durability with other luggage brands, it's similar to Samsonite and Delsey, but not as good as Travelpro.
Ricardo's hardside suitcases usually come with armored corners, scratch-resistant finishes, and thick retractable handles. Although their cheaper models are made from ABS, most of their hardside bags are made from polycarbonate, which is the strongest plastic for hardside suitcases. Still, a few customers have reported that their suitcases got dents after one year of traveling.
We found countless instances of people using their suitcases for five to ten years without any issues. However, they don't last that long for everyone. There are several instances where customers' all-new Ricardo luggage broke down in the first few trips, which should never be the case. For example, if you were to buy a Briggs & Riley suitcase, you could be pretty sure that it would last at least 10-20 years of heavy use. But, Ricardo's suitcases will last only 3-5 years (or 5-10 years if used only a few times per year.).
We've given Ricardo 15 points out of 20 in durability. That's because most of their suitcases are well-made and durable, but they don't take the extra mile to make them indestructible, as opposed to Travelpro or Briggs & Riley.
Read Next: Ricardo Beverly Hills vs Samsonite Luggage
Reviews (13/15)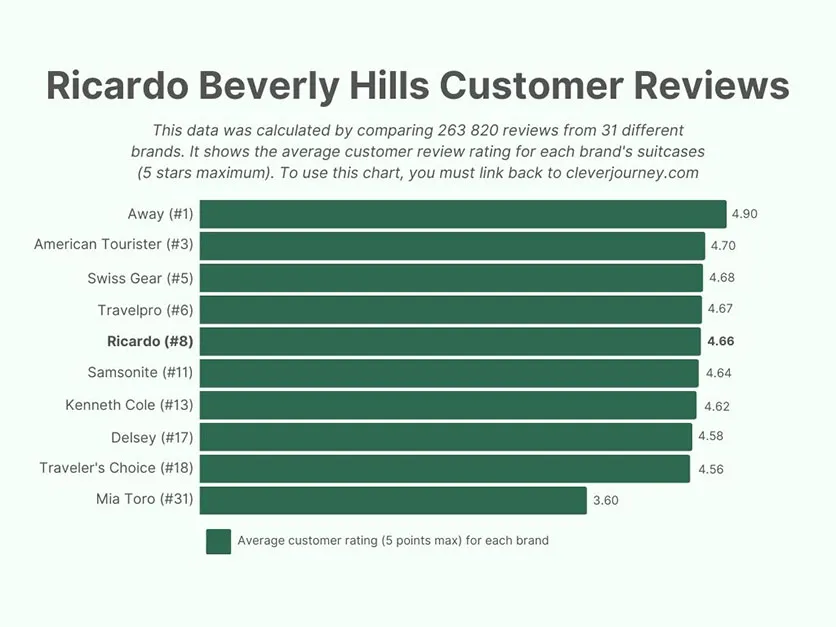 On average, Ricardo Beverly Hills suitcases are rated at 4.66 stars out of 5. From all the 31 luggage brands that we collected data on, they ranked #8, which is a really good result. Their reviews are better than Samsonite, Kenneth Cole, Delsey, and Traveler's choice, but not as good as Travelpro (although very close).
We researched their reviews and generally, most people were satisfied with their purchases. They said that Ricardo Luggage feels really well-made in real life, it's good-looking, and that it has a lot of thoughtful features. That said, some of their models have also received worse reviews than others. People complained about poorly-made zippers that got stuck or the zipper heads broke off, and faulty wheels, which got locked in place and weren't usable anymore.
Features (12/15)
Ricardo Beverly Hills does a really good job at providing useful features, even on their more-affordable models.
Expandable Zippers
Some of Ricardo's luggage has expandable width zippers. What this means is that you can expand your suitcase by a few inches, which results in an additional 25% packing space. This is really useful when you're short on space.
Most manufacturers have this option included only in their premium models. However, Ricardo has them even in the cheaper options.
Durable Double Spinner Wheels
Instead of regular spinner wheels, Ricardo has chosen to go with double ones meaning that in total you'll get eight wheels instead of four. This results in a smoother movement and an improved lifespan of the wheels. Again, this isn't a premium feature; they come even with the cheapest models.
Their spinner wheels are also rubber-coated, which improves their traction by a bit but most importantly reduces noise. When using their spinner suitcases on smooth surfaces, they'll roll pretty much without any sound.
Smart Organization Features
Ricardo's suitcases come with intelligent packing features, which other brands usually only include in their premium line of luggage. For example, when compared to Samsonite, Delsey, and Travelpro suitcases in the same price range, Ricardo easily beats them in packing features.
For example, most of their carry-ons come with removable, TSA-approved toiletry pouches, which means that you won't have to look for new Ziploc bags every time you go on a flight. Some of them also have wet pockets for storing dirty and wet laundry, GPS-tracker pouches, and come with packing cubes.
Smart USB Charging
Most of their bags have dedicated pockets on the interior with a USB cable and a USB port on the exterior. Essentially you can connect your power bank from the interior, and charge your phone without taking it out. You can plug your phone into the USB port that's hidden underneath the retractable handle.
Airline Compatibility (7/10)
Of all the medium-class brands, Ricardo Beverly Hills does the best job at keeping their luggage within the size restrictions for hand and checked luggage. Other brands, like Travelpro, Samsonite, and Delsey usually don't pay much attention to it, and with wheels and handles included, they're over the limits by a few inches. This usually doesn't cause any issues, but if you encounter a strict employee, you might have to pay additional fees for oversized luggage.
For carry-on luggage, the most common size restriction is 22 x 14 x 9 inches (56 x 36 x 23 cm). Almost all of Ricardo's carry-ons are within this size limit or just 0.5 inches over the limit. Your checked luggage needs to be under 62 linear inches (157 cm), which is the sum of height, width, and depth. We found only one suitcase from Ricardo advertised as checked-large, which was over this limit – the Ricardo Beverly Hills Montecito, which was 2 inches over the limit.
Weight (6/10)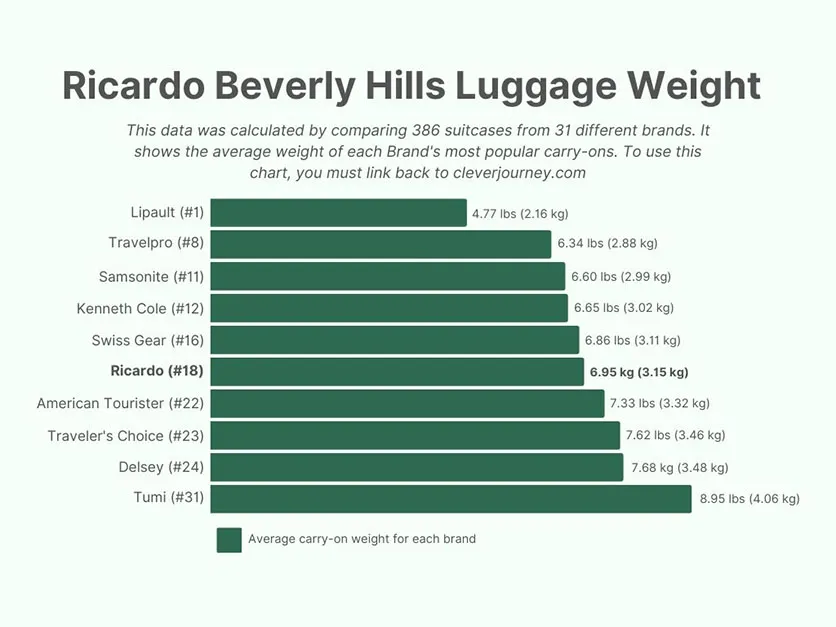 In terms of weight, Ricardo's luggage isn't the lightest, but it also isn't the heaviest. From all the 31 brands that we compared, Ricardo scored 18th in luggage weight, which isn't a too great result. On average, their luggage is 10% heavier than Travelpro, 5% heavier than Samsonite, but 10% lighter than Delsey.
So if you're looking for something extra lightweight, you won't really find it from Ricardo, although not all of their luggage is equally heavy. For example, the Ricardo Beverly Hills Beaumont carry-on weighs only 6.5 lbs (2.94 kg), which is really lightweight for a hardside carry-on.
Warranty (7/10)
Depending on which suitcase you choose, you'll either get a 10-year (most commonly) or a lifetime warranty.
Limited 10-Year Warranty
If you experience any defects due to faulty materials or workmanship, you can get your suitcase fixed free of charge or get a replacement. If it's subject to the warranty, you will have to pay only for the shipping costs to the repair center, and Ricardo will cover the return costs. This warranty doesn't include wear and tear, misuse, or accidents. If the defect isn't covered by this warranty, they offer repairs for a small fee. This warranty is valid for ten years.
Limited Lifetime Warranty
This warranty is identical to the 10-year limited warranty; only it lasts for the lifetime of the product.
First-Year of Ownership Warranty
If you register your warranty in the first 90 days after purchase, you get a first-year of ownership warranty in addition to your normal warranty. This warranty also covers defects caused by normal wear (faulty zippers, locks, wheels, and handles ), and transportation damage. This is good because most luggage brands don't cover any wear and transportation damages.
Support
Although their warranty is pretty good, we've heard that their support isn't too 'supportive.' We found many instances where their customers complained that the support was unfriendly and hard to get by. This is why they get only 7 out of 10 points in the warranty category. If they'd improve their support, they'd probably get 8 points.
Design (8/10)
Ricardo's designs are inspired by the lifestyle of California. They're going for the chilly beach vibes and the luxury laid-back west coast lifestyle, with most models being made in a discrete and non-flashy style. Yes, some models offer colorful patterns, but they're not too bright or flashy.
Ricardos' cheaper bags (for example, the Malibu Bay 3.0 carry-on) look perfect for leisure travelers. You won't have a hard time finding them on the luggage carousel. On the other hand, their premium models, like Beaumont and Indio, look professional and luxurious, which will be perfect for business travelers.
Price (8/10)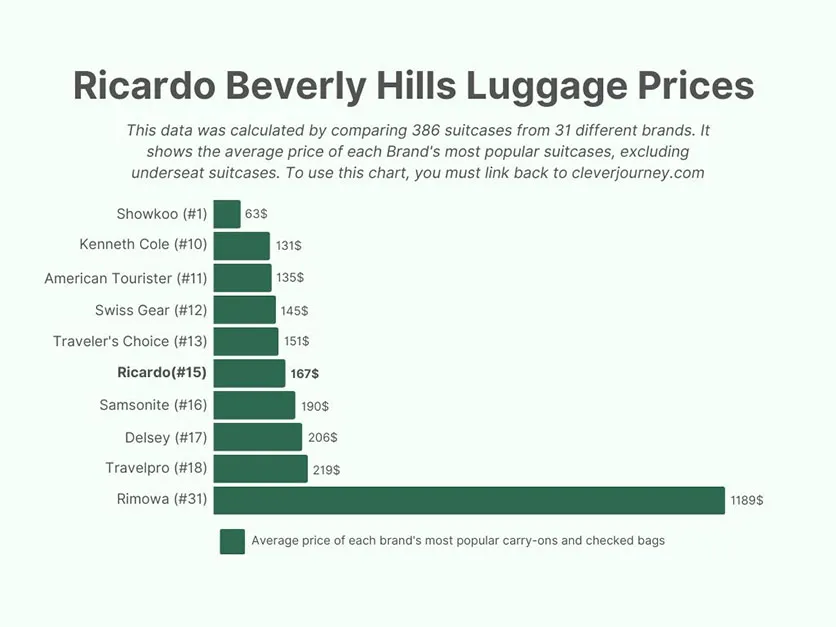 On average, their luggage costs 167$, which is really cheap for a medium-class brand. If you want a similar suitcase from a more-reputable brand like Travelpro, Samsonite, or Delsey, you can expect to pay 30-50$ more.
Overall, their prices are really cheap, considering the quality, packing features, and warranty. The more affordable Ricardo luggage is usually better than what other companies are offering.
You can get a carry-on from Ricardo starting at 59.99 $. However, their premium models can go up to 500$. That said, we don't think that their premium models offer too much value. We're especially talking about the 300$ and up models, which are too overpriced for what they offer. At those prices, you can easily find something more durable.
How Does Ricardo Beverly Hills Compare to Other Luggage Brands?
When we directly compare Ricardo Beverly Hills to other brands in the same price range, the results are interesting. Ricardo doesn't rank as highly as the other brands in certain aspects, but overall, it ranks higher than any other middle-class brand. That's because they do a good job from all aspects, and nothing is particularly bad about them.
Travelpro and Samsonite offer more durable luggage in the medium price range, but only slightly. Ricardo's luggage is also really durable, and it should withstand light frequent travel. However, we would recommend getting something more durable if you're planning on traveling extra-frequently.
In terms of customer reviews, Ricardo Beverly Hills does a really good job. Of all the medium-class brands, their reviews are only slightly behind Travelpro, but better than Samsonite, Delsey, Traveler's Choice, and Kenneth Cole. Their most popular models are usually also rated really highly, but we noticed that they also have a few models that don't do so great. It seems that certain models are built better than others.
Ricardo beats most middle-class brands when it comes to pricing and features. Most of the brands have minimalistic approaches when it comes to their features, so things like toiletry pouches and USB ports are absent from them. Ricardo offers these and more features, which make it stand out. Ricardo's pricing is also top-notch. The majority of the brands in this price range offer their luggage at high prices, but Traveler's Choice's and Ricardo's models are really affordable.
Ricardo's luggage design is also great. They have some collections that are geared towards entrepreneurs, while others are better for families. Overall, it's a really solid choice in the medium price range, and some of their models are even better than similar ones from Samsonite or Delsey.
Individual Ricardo Beverly Hills Suitcase Reviews
Best Softside Carry-On: Ricardo Beverly Hills Malibu Bay 3.0 20-Inch Carry-On
The Ricardo Beverly Hills Malibu Bay is one of their newest models, and essentially, it's an improved version of the Malibu Bay 2.0. If you're looking for an affordable softside carry-on, then the Malibu Bay 3.0 is one of the best options – even better than most Samsonite's and Delsey's softside bags. It's durable and comes with a lot of bells and whistles.
It's pretty much sized to fit most US airlines, which have a size requirement of 22 x 14 x 9 inches. Even though it's half an inch wider, this shouldn't cause any issues because the bag itself is a bit flexible and will fit most measuring bins. In weight, essentially, it isn't the lightest suitcase, but it also isn't the heaviest. Compared to other similarly-sized fabric carry-ons, the Malibu Bay 3.0 is 0.55 lbs (250 grams) heavier than the average result.
In durability, it lines up pretty much right next to Samsonite and Delsey. When used twice every month, you can expect this bag to last about 2-5 years, and 5-10 when used only a few times per year. The previous version used Dreamfel fabric, and this one uses regular polyester with abrasion-resistant coating on stress points, such as handles and edges. Overall, it's a slight improvement and most customers haven't complained about issues related to durability.
From the outside, it's fitted with four double spinner wheels with rubberized coating, which roll really smoothly and quietly. It also has top, side, and bottom handles, a large exterior pocket, a USB power bank port hidden underneath the retractable handle, and durable YKK zippers. Unfortunately, expandable zippers and a TSA-approved combination lock aren't included.
The interior is really nicely thought out and offers some of the best packing features of any mid-class suitcase. When you open it up, you'll find two pockets on one side – one zippered pocket and another water-resistant one, which is meant to store wet or dirty laundry. It also comes with another large zippered pocket on the side, a removable, TSA-approved toiletry pouch, a large packing cube, compression straps, and a pouch with a USB cord to hold your power bank.
Although the Malibu Bay 3.0 isn't the lightest carry-on, it's doing a superb job pretty much everywhere else. It has a ton of useful features, it's durable, sized to fit most airlines, and best of all – it's really affordable.
Best Hardside Carry-On: Ricardo Beverly Hills Mojave 20-Inch Carry-On
Although the Ricardo Beverly Hills Mojave is really cheap, it comes with more features than most suitcases in the medium class, it's durable, sized to fit most airlines, and not too heavy.
In size, it's just a bit over the most common carry-on restriction for airlines (22 x 14 x 9 inches) – it's half an inch over in width and depth. Most airlines won't have an issue with this, but if you encounter a strict airline employee, you might be asked to check it in and pay additional fees. The average weight of hardside carry-on suitcases is 7.11 lbs, so the Mojave is just 0.2 lbs over this number. Relative to other hardside suitcases, it's neither too heavy nor too light.
Most suitcases have handles fitted only to the top and side, which means they're pretty awkward to pick up when lifting up to the overhead compartments. The Mojave also has a handle on the bottom, which makes it much easier to pick up. Other notable exterior features include four double spinner wheels with rubber coating, and a USB charging port, which you can connect to your power bank inside the suitcase, and power your phone on the go. The only thing that it doesn't have is a TSA-approved combination lock, but its zippers can be locked with a regular TSA-approved lock that you can purchase separately.
The Mojave's interior is expandable – by unzipping one of its zippers, you can expand it by 2 inches, which means you can potentially have more room for stuff on your return trips. Just keep in mind that this will most likely make it over the size limits for hand luggage. Its interior is thought out really nicely and provides a lot of features for packing – it has two pockets for organizing all the smaller items, a TSA-approved removable toiletry pouch, a power bank pocket with a USB connection cable, tie-down straps, and even comes with a single, large packing cube for storing your bulkiest clothing.
Overall, the Mojave is a really great choice for anyone who's looking for a somewhat affordable hardside suitcase in the medium price range. It's better than most of Samsonite's medium-class bags (which, by the way, also cost more) because it comes with heaps of useful features, it provides the same durability due to its polycarbonate shell, and it's sized to fit most US airlines.
Best-Looking: Ricardo Beverly Hills Indio 20-Inch Carry-On
The Ricardo Beverly Hills Indio carry-on is very similar to the Mojave, except it looks flashier, it's lighter, sized slightly differently, and doesn't come with packing cubes.
In size, it's 21.5 x 14.75 x 10 inches (55 x 37 x 25 cm), which means that it's 0.75 inches over the most common carry-on size restriction in width, and 1 inch in depth. This means that occasionally, you might be asked to check it in when flying on domestic US flights because this bag won't fit the 22 x 14 x 9-inch measuring boxes. In weight, it's only slightly below the average weight of similarly-sized hardside suitcases.
It's fitted with rubber-coated spinner wheels, which most people report to roll really smoothly and quietly. Under the retractable handle, you'll also find a USB charging port, which means that you won't need to take your power bank out of your suitcase in airports if you want to charge your phone. It also has top, side, and bottom handles for carrying it on stairs and other rough surfaces.
From the inside, it's split into two equal parts – one is separated with a fabric sheet and the other one has x-shaped compression straps to keep everything in place. You'll also find two pockets for organizing your cables, electronics, and other items, a removable 1-quart bag for your toiletries, and a pouch for storing your power bank. The interior is also expandable, so you can have more room if needed.
Its only issue is the glossy finish, which gets scratched pretty easily. At least the shape of the frame is patterned, so the scratches aren't really visible from afar. But from close up, you'll easily see all the smaller scratches which develop over time from normal use.
The Indio carry-on is a really good choice for leisure travelers who are looking for something cheap, functional, and good-looking. When used a few times per year, it should last 5-10 years.
Best For Business: Ricardo Beverly Hills Montecito 20-Inch Carry-On
Although a bit more expensive, the Ricardo Beverly Hills Montecito is a slightly better option than the Indio and Mojave hardside carry-ons due to slightly better features, lighter weight, and more packing room.
It's a bit too large to fit most US airlines, which have a size restriction of 22 x 14 x 9 inches for carry-on luggage. That said, it's still within the restrictions for some, such as Southwest Airlines, and most of the time, the airline employees don't check the size anyway. It weighs 6.9 lbs, which means that it's lighter than other Ricardo Beverly Hills hardside bags and that it's 0.2 lbs below the average weight of hardside carry-on luggage.
The main compartment is protected with a TSA-approved combination lock, which you can unlock with a three-digit code that you set up first after receiving the bag. It also has a USB charging port to keep your devices charged, four double spinner wheels, and top, side, and bottom handles for lifting the bag up to overhead compartments. The exterior looks more professional when compared to other Ricardo's hardside bags, with faux leather elements and a scratch-resistant finish.
Similar to other Ricardo bags, its interior is also really well thought out. It has all the regular packing features of any hardside suitcase – split-book opening, zippered pockets, and tie-down straps. But in addition to that, it also has a TSA-compliant toiletry pouch, a pouch for your portable battery, and a dedicated pocket for a GPS tracker.
Although the Montecito may seem more expensive than other Ricardo bags, it's still much cheaper than most Samsonite, Delsey, and Travelpro bags, while providing the same durability and better features. To sum up, it's one of the best choices for a mid-class hardside carry-on among all luggage brands.